Hello lovelies!
It is guest DT Natalia here with you today. Have you seen the new Alex Syberia Design's release? It is AWESOME! Make sure you check out her Etsy shop and all the fabulous designs here.
I am honoured to be a guest designer for the blog this month. I absolutely love Alex' designs, and this release was just sooo good – I had so many ideas and have created so many cards that I will be sharing with you in the following days.
We are having a hop to celebrate the release over on Instagram, so make sure to head over and hop along! There is a chance to win a $20 Gift certificate to the Alex Syberia Design Etsy shop. Now, let's talk about the card I have to show you today and how I made it!
The first idea I had with this cute giraffe (Digi Stamp) was to mirror it on Photoshop and place them on a heart on my panel. That then evolved into a shaker, because, why not! Shakers are cool.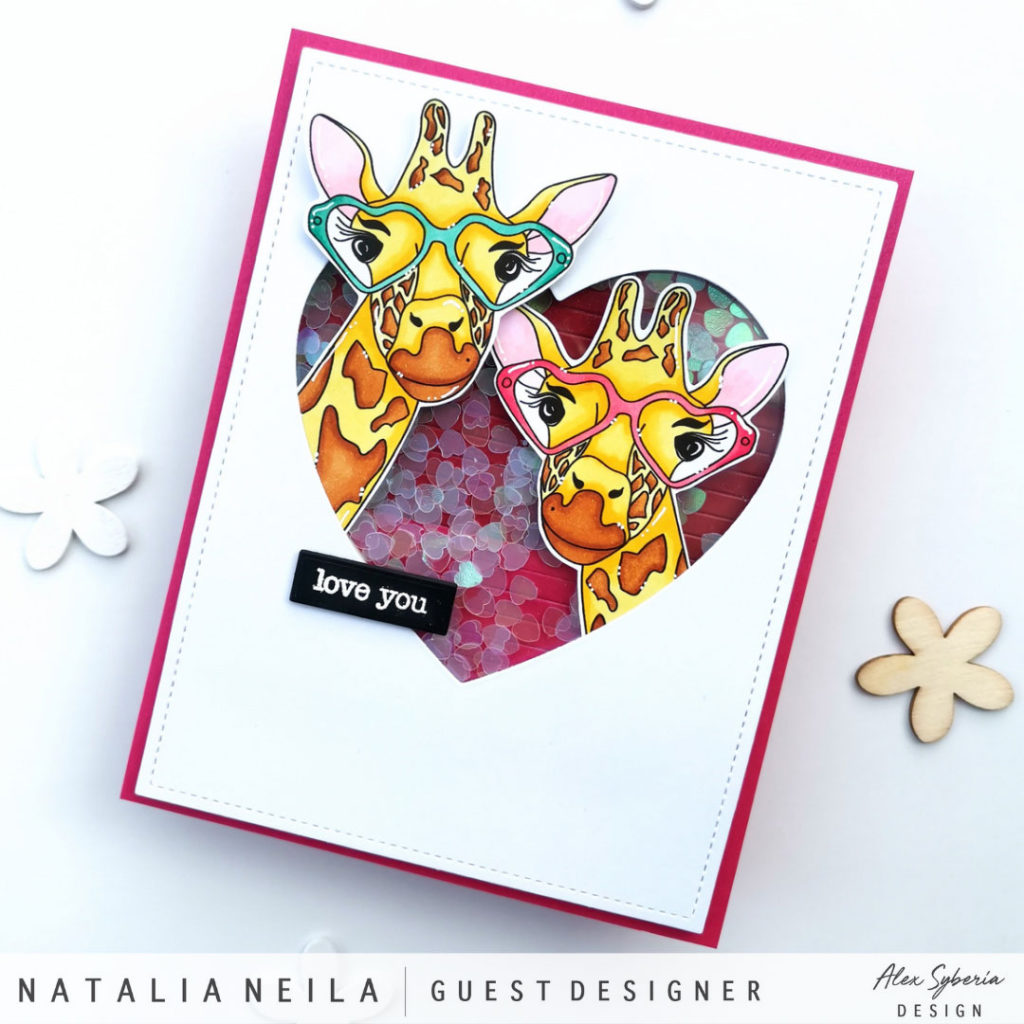 I started off with a 4×5.25″ rectangle stitched die cut to create my panel and I used a heart die cut to create that opening in the middle where the giraffes would go. Now it was time to colour the giraffes so that I could stick them to my front panel and build my shaker!
As usual, I used my Spectrum Noir alcohol markers, and the colours are as follows:
Yellows: CT1, CT2, CT3 and CT4
Browns: GY2 and GY5
Teals:
Reds:
Pinks: PP1 and PP3
White gel pen
To assemble the shaker, first I glued the giraffes, peaking out of the heart. Secondly, I cut a panel from acetate big enough to cover the heart shape and I used double sided tape to stick it to the back of the panel. I used this Time for Tea double sided foam tape which I love as it is skinny to build the shaker. A little trick if you aren't aware, is to put a bit of your antistatic powder around the foam tape's sides so that the shaker elements don't stick to it.
I used the Skinny Stripes die from Waffle Flower to created an ombré background behind the heart. I went for red and hot pink pearlescent cardstock. And now all I had to do was fill in my shaker and glue it all down! I chose a little sentiment from Avery Elle. Finally, I mounted it onto a 4.25×5.5″ base cardstock from the same hot pink as I used for the ombré and all done!
I hope you like it and I'll see you over on the hop!
Sending hugs,
Natalia