Hi crafty friends!
Cheryl here from www.cherylespiecreates.com
I am thrilled to be joining Alex Syberia Designs as a guest designer. This month my Copic markers have been having a really good workout and you will be able to see every project I make over on my Instagram @cherylespiecreates. But I will be shining the spotlight on specific Alex Syberia Designs during my blog posts.
Today, I wanted to put the spotlight on the gorgeous digital image by Alex Syberia Designs called Fabulous Floral.
Wow! This floral is one of the reasons I didn't hesitate when I was asked to be a guest designer. Big bold lines stretch across a full slimline panel with petals adorning the cardstock and tapering off at the top. Stunning!
I couldn't wait to get started. When printing images from digital downloads I always use Neenah Solar White 80lb cardstock. I know it's good for Copic markers, but I also know it will feed through my printer with no problems. I have tried using thicker cardstock but my printer cannot take it.
For this card and matching tag, I used Copic markers:
V20, V22, V25, V99 & Y06
You will see by my staged photos how I applied the markers starting with the lightest colour V20, and then worked my way up to V99. The Alex Syberia image cleverly shows areas where you can add different colours to enhance the look and the light of the floral.
What I loved about the Alex Syberia images is my option to print different sizes and also be able to print more than one image at a time. Definitely one of the perks of digital stamping.
You will see that I created a matching tag to my slimline card. I achieved this by changing the size of the image when instructing my printer. Winner! I am a lover of all things pretty and I also love all things matchy, matchy. To give a card to someone but also have a matching tag for their gift almost makes me giddy….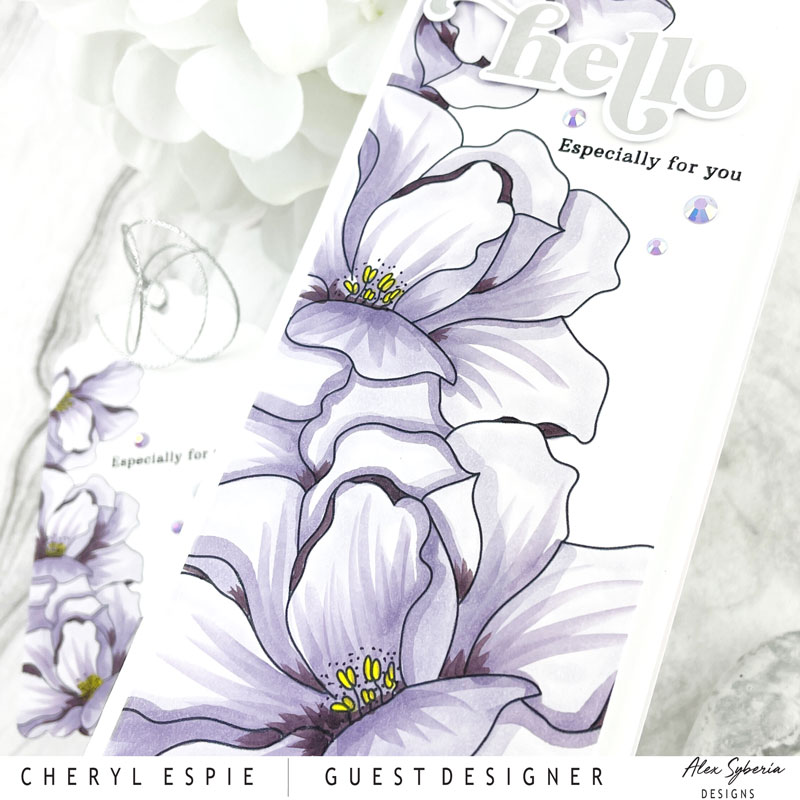 Just to say, I have not used a lot of digital stamps until recently and it certainly has opened a creative door for me. Alex Syberia Designs have an array of genres and they are so economical. Also, you don't need lots of storage room!
I hope I have inspired you today with this glorious Fabulous Floral by Alex Syberia Designs.
I have lots to share with you throughout the month of July, so make sure you follow @alexsyberiadesigns and @cherylespiecreates
Happy crafting friends!
Cheryl