Hi There! Natalia from @cardsmadebynatalia here with you today.
I wanted to share with you my process for making this card using Alex Syberia Designs cut files and WOW! embossing powders!
I absolutely love all the results: so many layers and dimension. Let's get to it! First of all, I used my Brother to cut the three layers from the butterfly cut file (svg). I then did the same with the Summer Garden cut file which I used for my background. This panel is already an A2 size so that is perfect!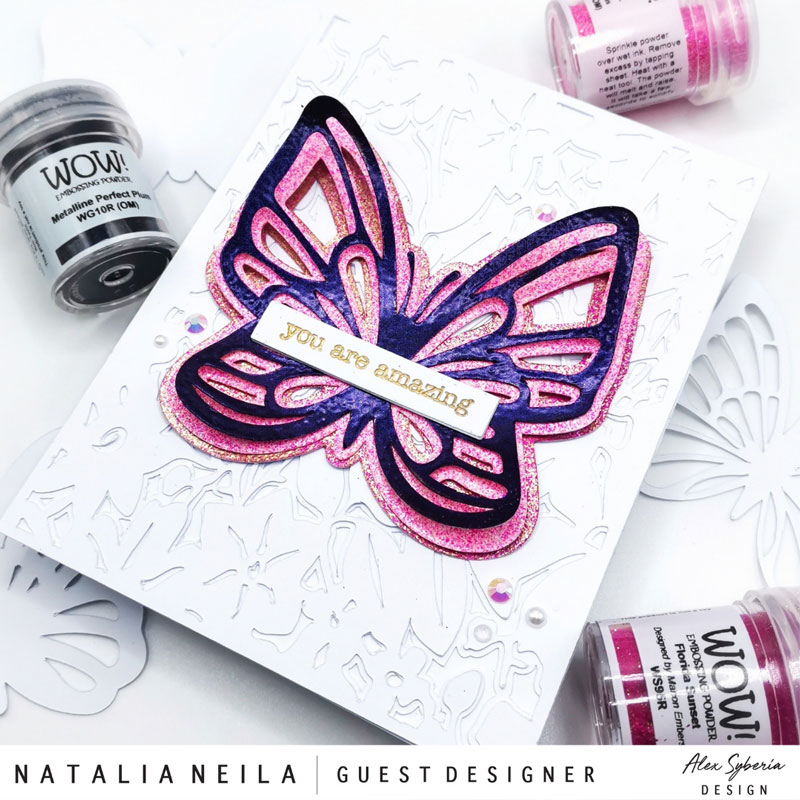 The next step was to 'colour' the butterfly layers. I used three different WOW! embossing powders for this: Florida Sunset, Perfect Plumb and Bubblicious. I couldn't tell you which one is my favourite, I just love them all! To do this, I just went with the WOW! embossing pad straight onto my cardstock and put the powders on it. I then heat emboss it. The key here is to use some tweezers to hold your paper and maybe going back to that surface that didn't get full coverage the first time.
After that, it was just a matter of putting it all together! Don't you think it's super quick? And what about the results? I love them too. Of course I had to add a few little gems and pearls to it too.
You can see a video of how I made this card here:
View this post on Instagram
I hope you like it and it inspires you to create!
Sending hugs,
Natalia