Hello friends!
I am very, very excited to share with you this card because I used a technique that was completely new to me, and has certainly opened up a ton of possibilities when I create with digital stamps: I printed on vellum the gorgeous butterfly from Alex Syberia new release and then used WOW embossing powder on top!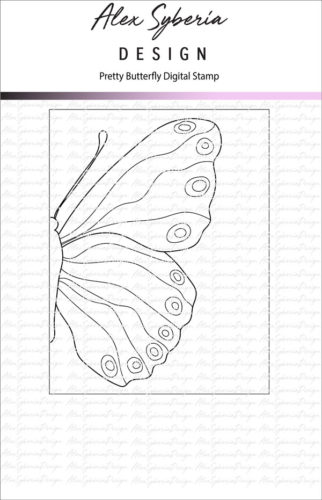 I know people have been doing this for a long time, but how cool is that! I also had the misconception that I needed a laser printer to be able to heat emboss… Not true. Thanks to the wonderful Enna (@ritzyhag) and her kind explanations on what I could do with a regular jet ink printer, I gave it a go, and I LOVED the results! Do check Enna's blog, she has lots on what you can do with digi stamps moving away from the traditional techniques.
This might be helpful to you – I have an HP OfficeJet Pro 8210 and it is fabulous. It handles my cardstock (I have tried up to 300gsm) and both regular and watercolour. The ink does not smear and now I also know I can print on vellum and heat emboss on it! A small tip: be quick. Get your embossing powder ready to go as soon as the vellum comes off the printer, do not let the ink dry. But don't worry, it stays wet long enough for you to do this without stressing.
The digital stamp I chose for this card is so beautiful. When I first saw it I wondered about mirroring it and creating a full butterfly, but then I really liked it as a half only so I went with it.
So what I did was: Prepare the butterfly on Photoshop to fit and A2 panel and print that off onto regular white cardstock. Print again but on regular printer paper this time – I wanted this to create a mask, as I wanted to ink blend the background around the butterfly. I have filmed a time lapse of this part and I will be posting that on my IG account tomorrow, so stay tuned!
I used chipped sapphire, faded jeans, salty ocean and tumbled glass distress oxides and added some Perfect pearls water and some white and black splatters. I then removed the mask and fussy cut my gorgeous gold heat embossed vellum butterfly.
I used a Zig glue pen to adhere it to the card base – the best tip I can give you on gluing vellum is to dab the glue before sticking it down, this way it shows through less.
To finish it off, I die cut the letters h and i in gold from the Waffle Flower Retro Outline Alpha Die set. As usual, I did 4 layers, 3 of white cardstock plus the gold one at the end. The sub-sentiment is from the Simple Sentiments stamp set from Avery Elle. I am really enjoying this set lately as it has plenty of occasions and the font is just great! And some pearls and sequins from My little things from Lucy's cards.
There is an Instagram hop on at the moment, with a chance to win $20 to Alex Syberia Design Etsy shop, so come and hop with us!
I hope you like this card and it encourages you to try this technique with your printer too! I wish I had done it sooner!
Sending hugs,
Natalia