Hello Everyone!
Hope you're all having a great day. This is Jyoti from Cardsncraftsnyc.com sharing interesting copic coloring techniques on digital stamps.
Sometimes I spend hours trying to achieve realism with copic markers. I am not an expert by all means. I myself am learning as I practice with each project I create.
I'm sharing two projects in my post today to explain how I created these soft florals with a quick but effective coloring technique.
First Card
I pritned The Spring Tulip A2 panel on 80lb neenah card stock.
I started coloring these beautiful flowers with just two copic colors. Started with B01 from the darkest deep parts of the petals flicking softly then followed with B000 blending the darker shade completely fading into white. I made sure I left most of the petal area white where highlight is supposed to be.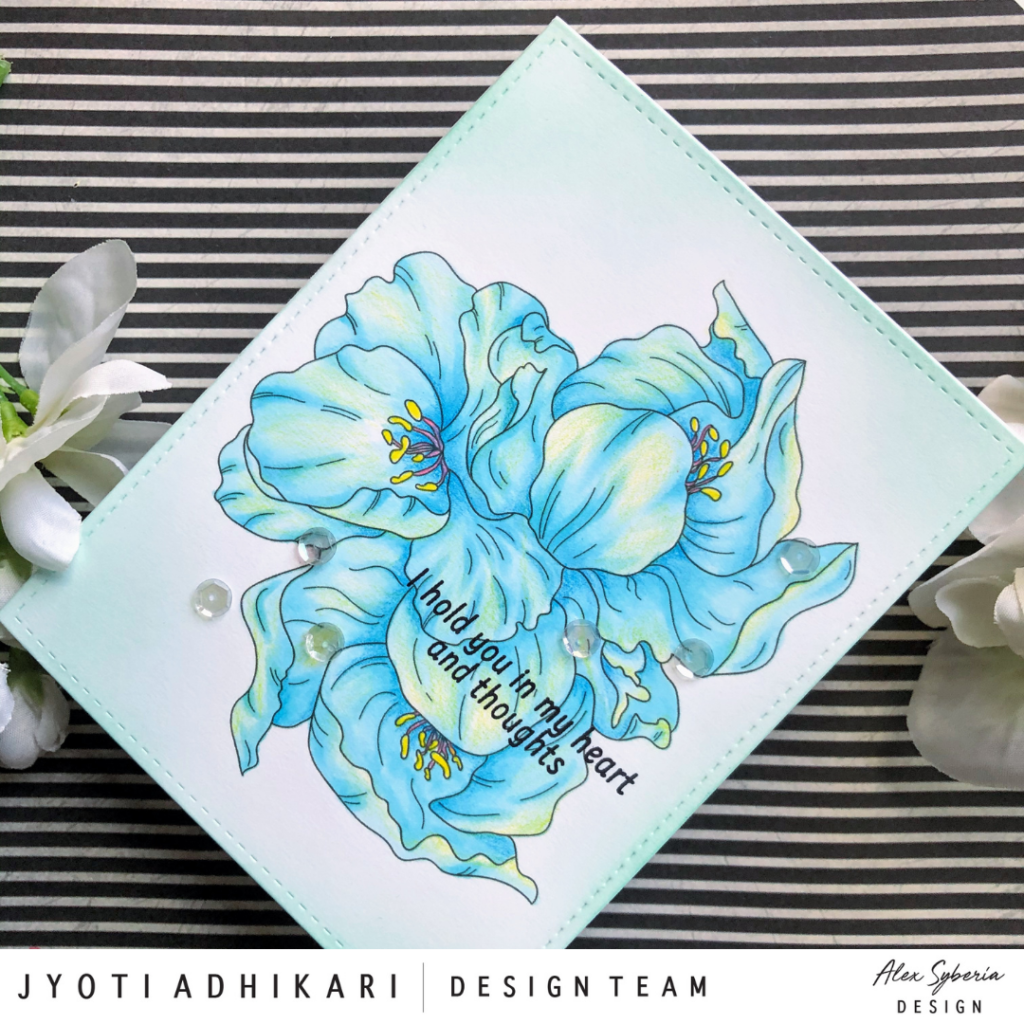 It was already looking so much better but I wanted to add a little variations of color on these soft petals. I added some color with Prismacolor pencils. Holding the pencil towards the bottom and lightly running the side of the sharp pencil to achieve soft light layer of color. Added PC 989 Charteuse and PC 916 Canary Yellow on the highlighted parts of petals.  Added some deapth along the shaded areas with PC 904 Light Cerulean Blue.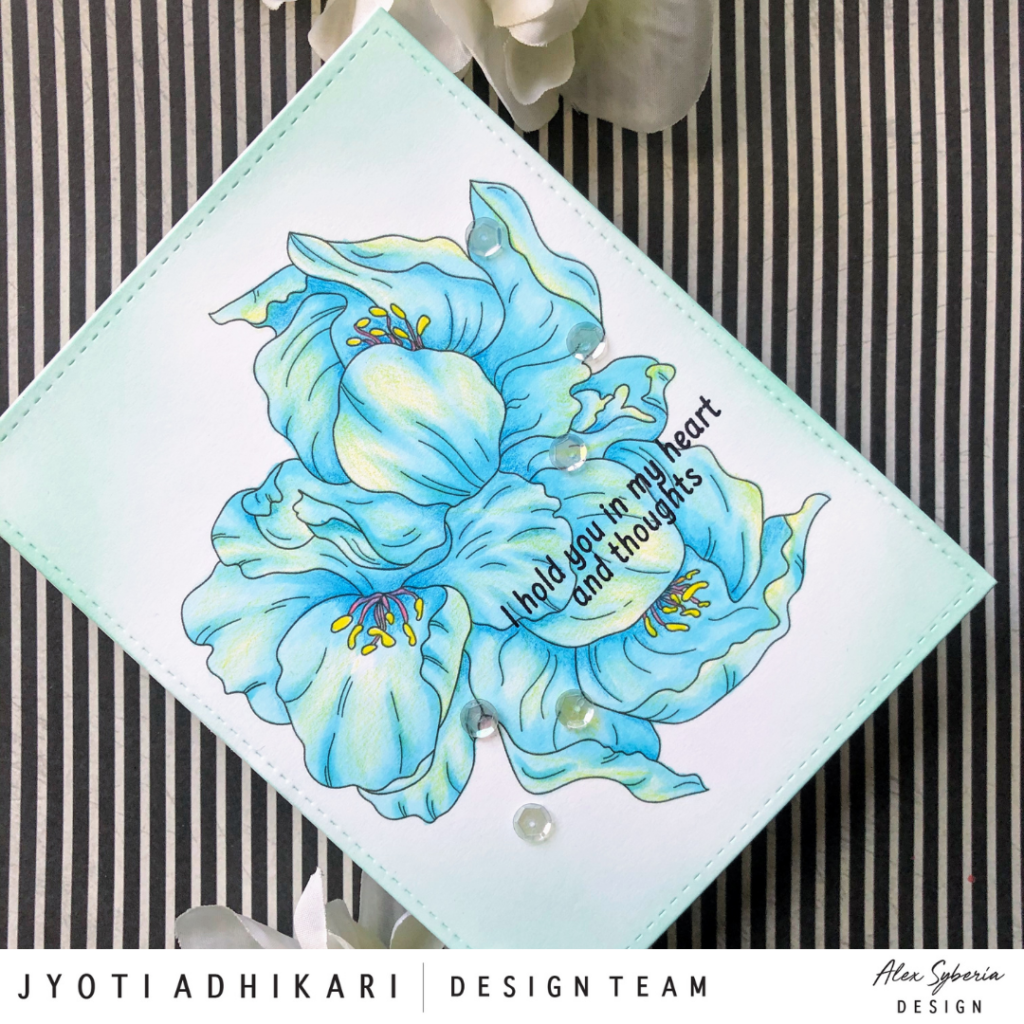 Finally colored the stamens with PC 916 Canary Yelow and PC 929 Rose.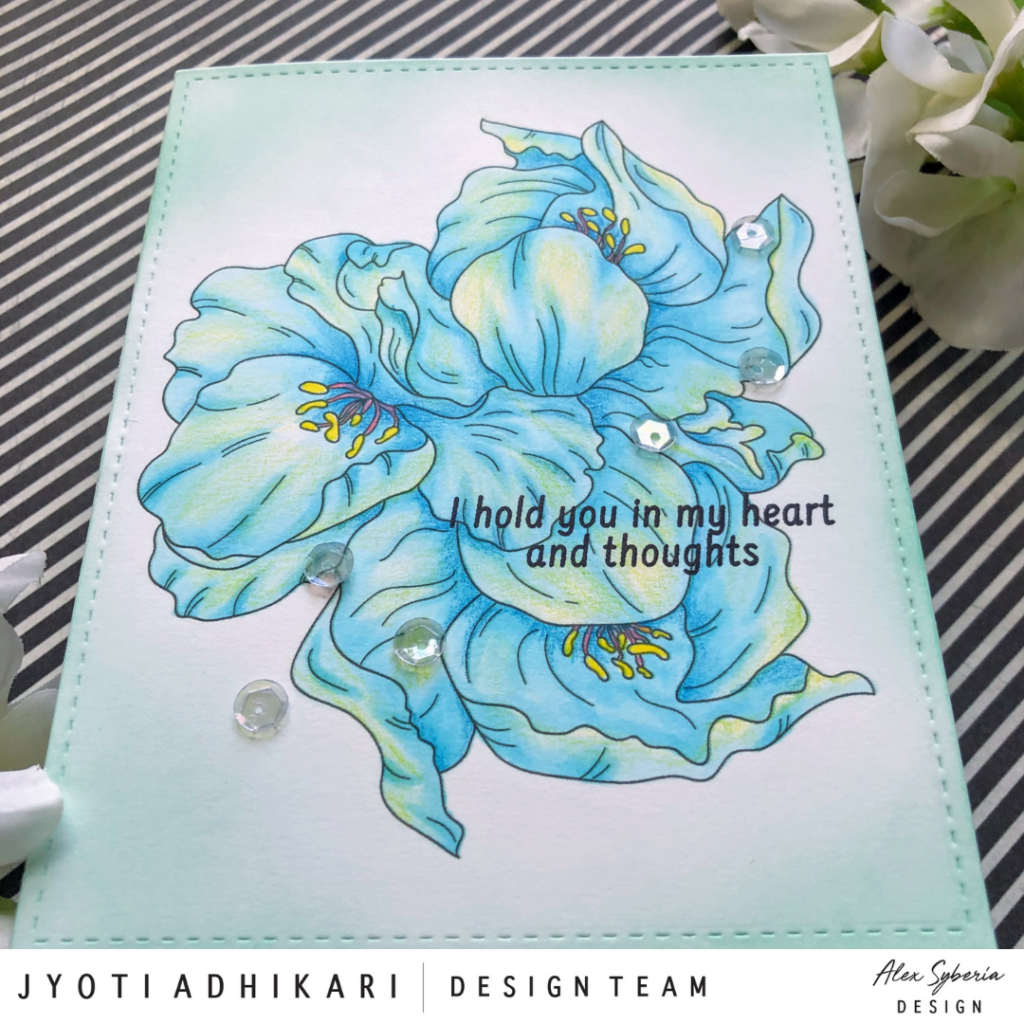 I then cut my panel with one of my frequently used die from Mama Elephant Peekaboo window set, that cuts the panel to a stictched edge in A2 size. I then blended the edge of the panel with Rumbled Glass Diestressed oxide Ink. Added it with liquid glue in an A2 size card panel.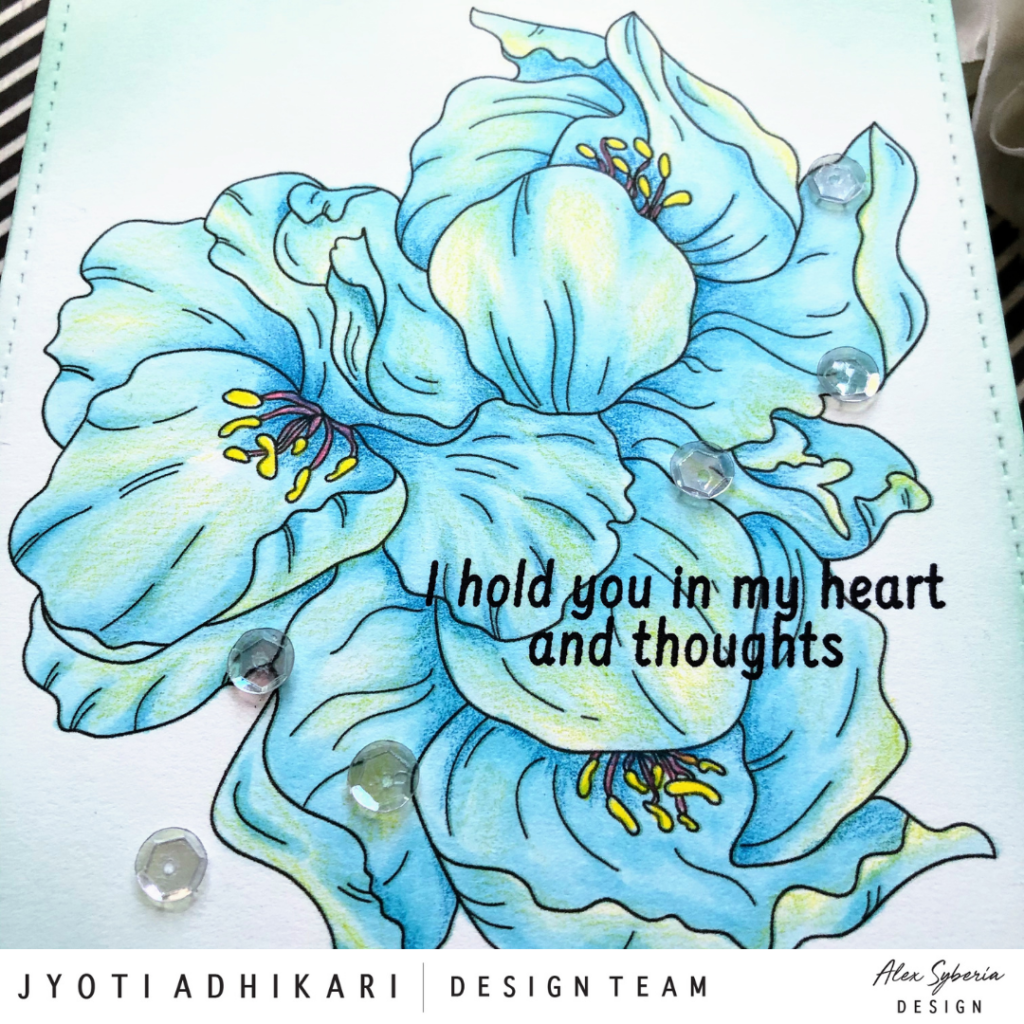 The sentiment is from my new Simon Says Stamp card kit that was lying on my desk. Finally added some clear sequins to finish my card.
Second Card
With the same coloring technique like my first card I colored this Peony Background image that was printed on 80lb neenah cardstock.
Uded R00 for the flowers and YG13 for the leaves. For added highlights on petals added Prismacolor in PC914 Cream and on the deep areas PC929 Rose. On the leaves added PC 989 Chartuse for the highlights.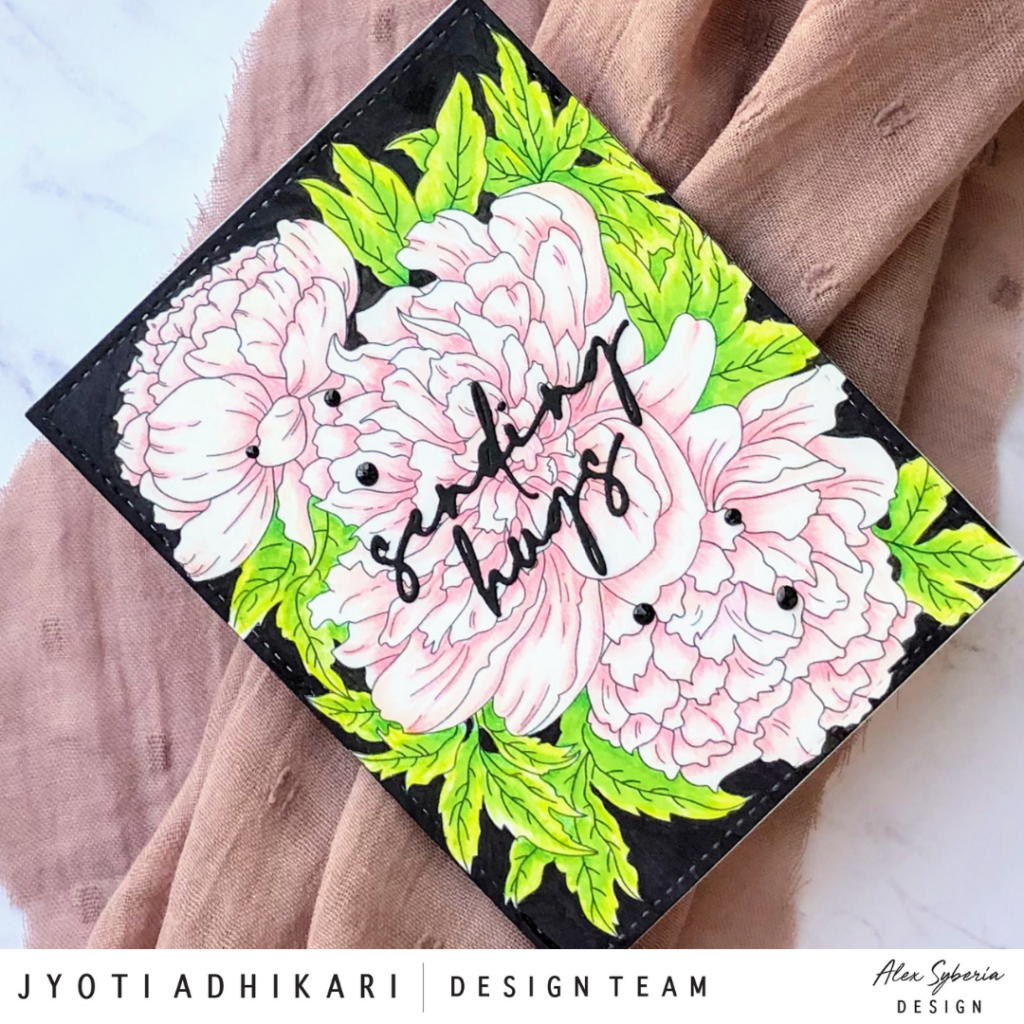 The remaining empty spaced on the panel I used Black copic color to give it a back background. I loved how these soft flowers pop against the black.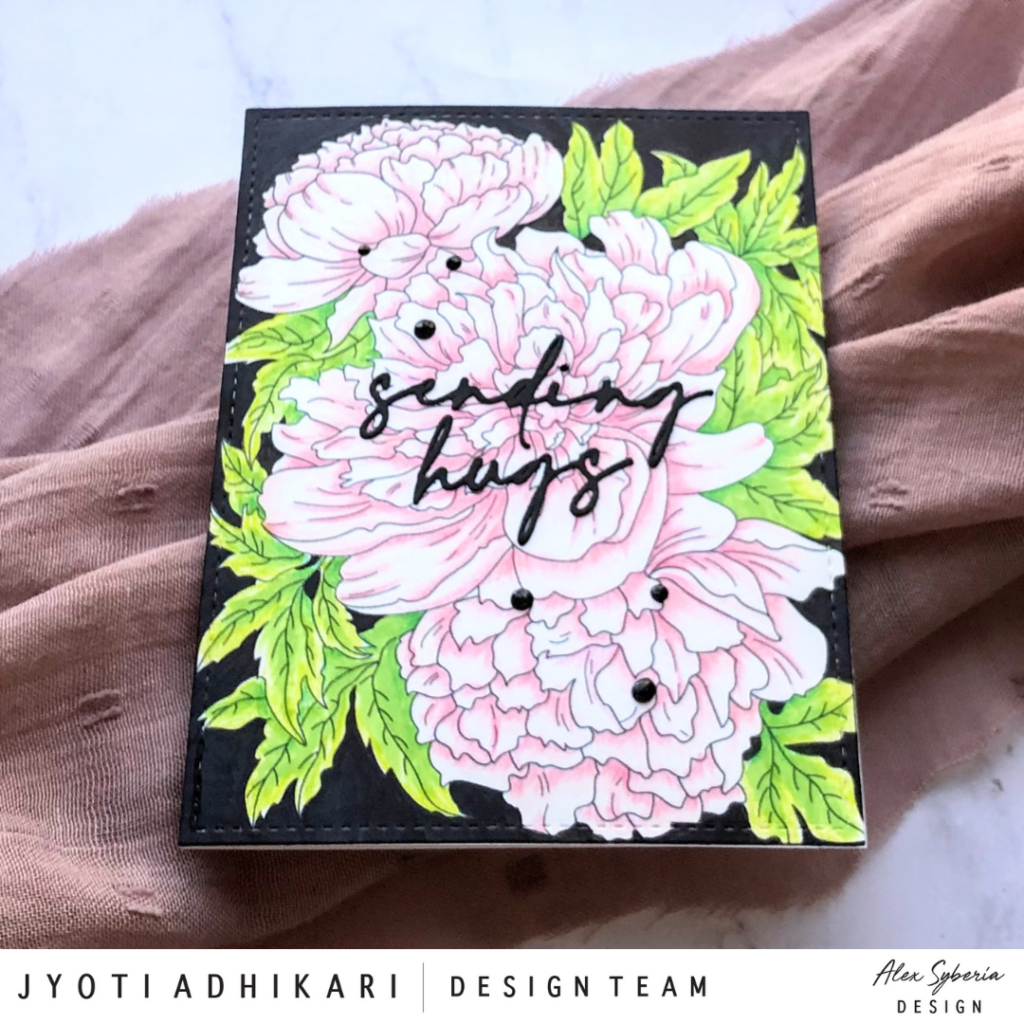 The sentiment I have used for this card is from The Ton Stamps. Added some black Nuvo Drops to compliment the soft flowers.
Thank You for visiting. Hope this inspires you to color your digital projects in this easy to color technique.
You can purchase these digital stamps at Alex Syberia's Etsy Shop.
Hugs
Jyoti