Hey crafty people!
Today I'm sharing another card using an image from Alex Syberia Designs' March release, this Flirty Flamingo panel was just screaming for some no blend colouring.
I completely took inspiration from Yana Smakula's no blend colouring technique, (I think she even did a video of the technique on a Flamingo card.)
I've used this style before, but I've not done it for ages so I was really excited to give it another go! 😊
But first, I set up my panel in Silhouette Studio; the Flamingoes were already sized up for a slimline panel because that's how Alex designed it; I needed to add a sentiment though, and as I've said oh so many times, I am a suckered for a pun!!!
This cheeky sentiment was perfect! I designed the whole thing round my mother in law: she loves Flamingoes, bright colours and this sentiment is just the thing to give her or one of her friends a kick!!!
COLOURING
It's so easy to achieve this look, you just need to colour the whole area with your lightest marker first, then the most important bit is to give the ink time to settle and completely dry before moving on to the next step.
I just coloured one bird, then the other and that was more than enough time to allow me to move on to the next step on the first bird…if you follow me??! 😆🙈
You move up to your next lightest colour, marking out the section you plan to colour, and then, well, you just colour it! We want a really crisp separation point between the two shades, which is why you need to let each layer dry before adding the next.
Copic Markers
Flamingoes RV23, RV25, RV29
Beak R00, R20
Background G00, BG23, BG49
Once I had finished both birds, I coloured the background in the same way. I also added some of the darker teal around the sentiment to help it pop!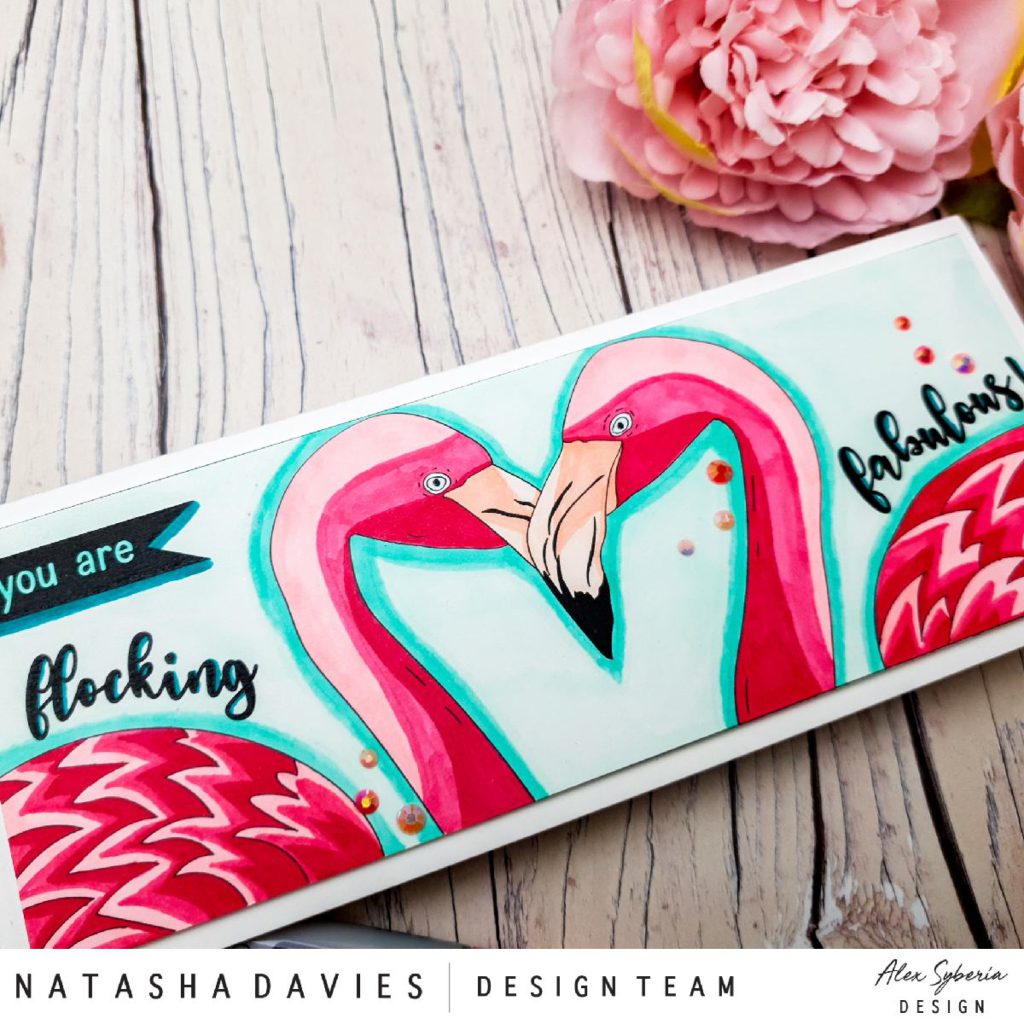 To embellish, I added a few jewels in shades of pink and added it to an 8.5 x 3.5 inch card base made of 110lb Neenah.
Thanks for spending this time with me, I'll be back later in the month with more inspiration to share!
Stay crafty!!
Byeee!