Fabulous Floral Slim Line Card Panel
on vellum.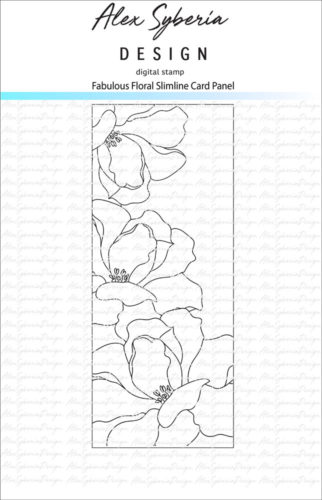 And then to soften the lines of the image I foiled it with white Minc foil using my Minc machine.
To add some colour to this, I turned it over and started with my darkest colour, this is Copic R59, at the tips of the petals. The next colour was R37, and to blend it into the darker colour I swept the marker over parts of that. Only a little, mind you, and with quick, but light flicks.
Then I moved on to a R35, using the same technique. From this colour I added a bit of orange, dark yellow and finally a bright yellow, the exact ones were YR68, YR12 and Y17.
When I was happy with the colouring, and it did take a long while, and many layers to get them all to show through the vellum, I wrapped the whole piece around a slim line card base of white card stock. I tried with black card stock first, but white made the colours pop the best.
The word die I used for this card is no longer available, but I love it. It's stacked three times to create dimension and the top layer is homemade shimmer card stock made with Paper Glazes from Picket Fence Studios. That's it from me for today but I hope you enjoyed this post, and will try this technique for yourself with this lovely stamp. Lots of love and happy crafting from Erica
Hi guys! It's Erica back on the Alex Syberia blog today with a card that I made for the March release Instagram hop. This card got so much love and some requests for a how-to so I thought why not share that with you today. First off I printed the