Hello, it's Colleen and I'm sharing an easy Copic Coloring technique using the Spring Tulip Digital Stamp!
I'm far from an expert on Copic Coloring, but I've found a few tips to be helpful in achieving the look that I want, and I hope this helps you!
I've printed the Spring Tulips digital design onto 8 1/2 x 11 Neenah Solar White 80 lb cardstock and trimmed the card panel down to 5.5 x 4.25. Next, I grabbed Copic markers in Y15, Y19, YR04, YR07, and YR09. I chose these colors because they blend nicely together in the yellow and orange color family. And, they are very springy!!!
TIP 1: Choose 3 to 4 Copic markers in a similar color family. Choose a light color for highlights, medium color for blending, and dark color for shadows. This makes blending much easier if you are new to these alcohol markers! Don't feel like you need several markers to create a lovely, well colored flower!
Once I have chosen my colors, I start coloring with the lightest color first and work my way to the darker colors where I need shadows and highlights, blending the colors together. I may need to color over each petal twice to get good, smooth blending.
TIP 2: It helps if you practice blending your colors together on a sheet of Neenah Solar White cardstock before working on your flower. This way you get a feel for how the colors blend together!
TIP 3: Focus on one petal at a time. looking for areas where you'd find natural shading and highlights on the petal. If you need help, look at photos of flowers to find the natural shade versus light. Focusing on one petal at a time helps to break the flower down to manageable pieces rather than looking at the entire image, which can be overwhelming. Trust that the entire image will come together nicely if you focus on one petal at a time.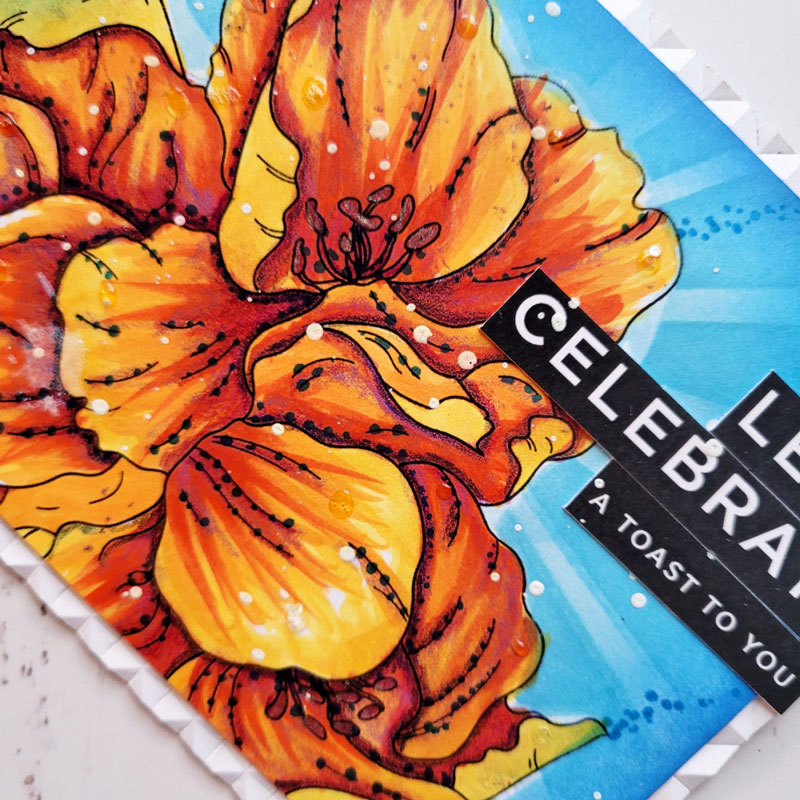 Once I finished coloring my flower, I went back in with a colored pencil in a darker shade within the same color family and added even more shadow.
TIP 4: Colored pencil makes a huge difference in adding details to nooks and crannies! Keep your colored pencils sharp when adding detail to your flower, and blend it out to give a smooth look.
I finished my flower with a few dots because Alex is well known for her dot coloring, and I just love the fun, flirtatious look I get when I add dot coloring!
TIP 5: Dot coloring can be a fun way to add details to your flowers! Start slowly and build from there until you're satisfied!
Final step was to mask the flower and ink blend the background to look like a ray of sunlight in the sky. I love how that complimented the flower!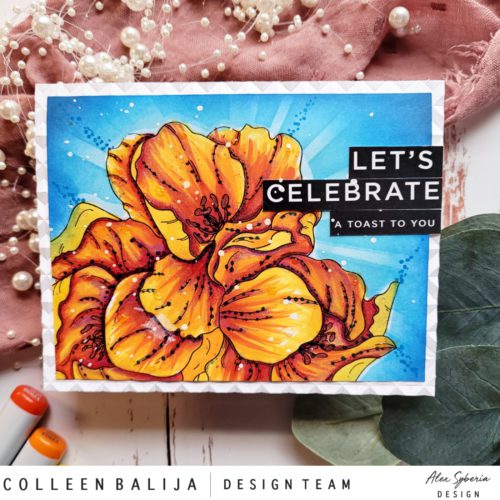 I hope that you enjoyed today's tutorial. To shop Alex's new release, click here. to view her Instagram page and be inspired by her amazingly talented design team, click here.