Hello everyone !
It's Lounon (@craft.me.craft.moi) and I am super excited to be guest designing for Alex Syberia this month. For my first project I used the beautiful All Star Bouquet Digital Stamp.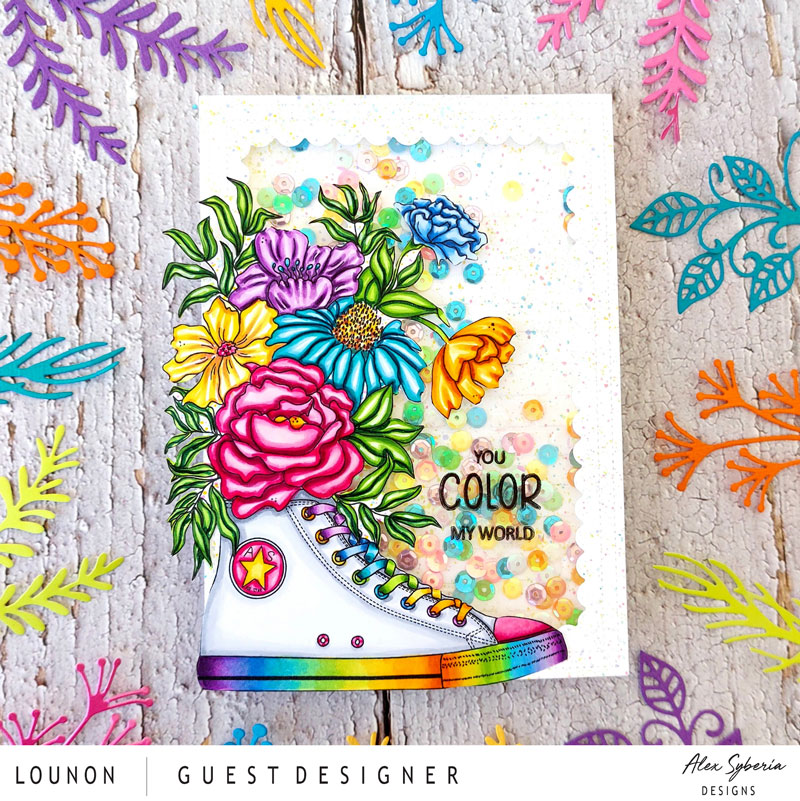 First, I sized my image at 9 cm x 12.5 cm (5″ x 3.5″) and printed it on marker-friendly cardstock. I mixed my Illustrators (I) and Copics (C) markers to color it and I fussy cut it.
Pink : MG5 MG3 MG1 PP1 (I) / Orange : B04 (I) YR18 YR38 YR35 (C) / Yellow : E15 E13 E15 E11 (C) / Purple : PL4 PL3 PL2 PL1 (I) V01 (C) / Teal : BP9 BP7 BP5 BP3 BP1 (I) / Blue : TB79 TB5 TB3 TB1 (I) / Green : G28 YG67 YG25 YG03 YG01 (C) / White : C5 C3 C1 C0 (C)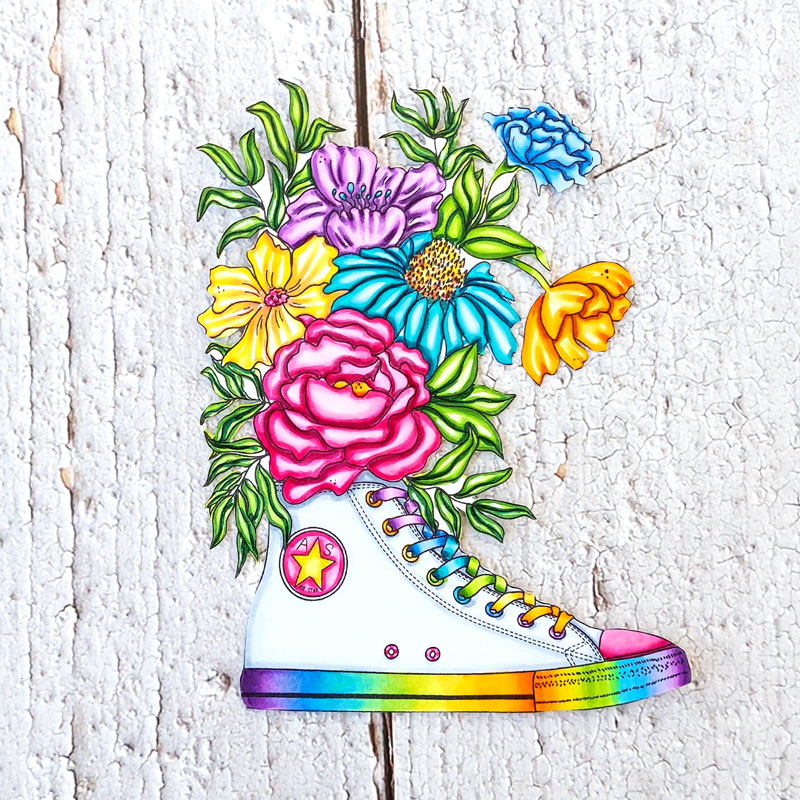 Then, I used my Time for Tea Designs Smile Inverted Scallop Frame Dies into white cardstock and I splattered some Distress Oxide inks (Mustard Seeds, Twisted Citron, Picked Raspberry, Shaded Lilac and Peacock Feathers) with my brush on it. Then, I cut a 14.5 cm x 10.5 cm (4″ x 5. 3/4″) rectangle into acetate. I stamped my sentiment on it with my black Stazon inkpad and glued it behind my frame. I also added foam stripes all around it.
For the background of my card, I wanted to keep it clean and bright to avoid interference with the image and rainbow sequins, but I wanted some texture too. So I decided to use my Gemini Brick Layers embossing folder on a white cardstock. I splattered it with the same inks I used for the frame.
I placed sequins on the base of my card and glued my scalloped frame on it.
Finally, I glued my colored image on top of the shaker part.
Et voilà !
May the craft be with you!