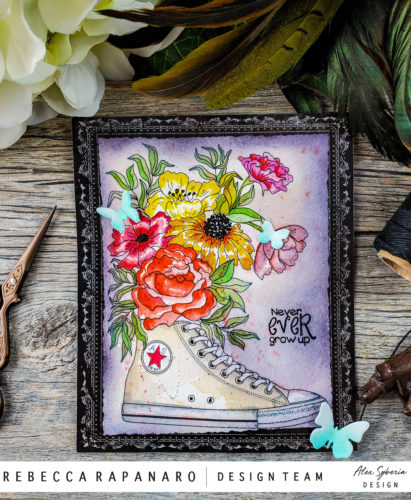 Hello Rebecca here he Wizardess Of Cards and I'm always so happy to be up on Alex's blog! I absolutely adore her releases. Every month she creates such beautiful designs, breathtaking really! Today I share with you a card I created using the All star Bouquet Digital Stamp. I own a few pair of Chucks and they are well loved.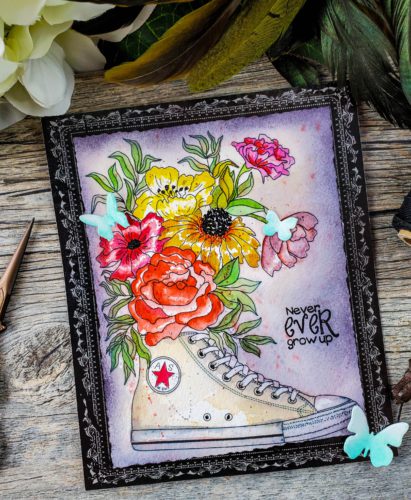 I printed this stamp on Arches Cold pressed paper. I then watercolored, and honestly I could spend forever watercoloring. I used Senellier, Qor and Danielle Smith Paints. 
Once my image was dry I cut it using the Tim Holtz Deckle Torn Edge Trimmer. I cut it to measure less than an A2 Card. For my frame I loved the look of this pattern paper,Its the 6×6 Vampire paper pack, I did alter it to make it into a frame! The little butterflies are so sweet I use them all the time, they are from the Scalloped Edge Pocket Die Set. I did use just a little Salvaged Patina to give them some colour. I glued everything together and I loved the outcome!
Thank you for stopping by, I hope you have time to stop by Alex's Etsy Store she even has cut files now, so exciting!
Rebecca
wizardessofcards.com
@wizardessofcards