Hello crafty friends!
Today I am back with two cards I made with the All Star digital stamp from the new release from Alex Syberia Designs.
Do you like using washi tape on your cards? I struggle but I always like a challenge so I decided this stamp was good to give it a go! I really wanted to use them with this cool stamp.
To start with, I used Photoshop to combine the All Star boot on with the Night Garden A2 panel. I thought adding a few little flowers would give the boot a lovely touch! Once I was happy with that, I printed it twice onto 250gsm cardstock and coloured them with my Spectrum Noir alcohol markers. The colours I used are as follows:
Teals: GT1, GT2, GT3
Yellows: CT4, CT3, CT2, CT1
Greys: IG2, IG4
Oranges: OR3
White gel pen
To create the backgrounds, I used a set of washi tapes I bought on a trip to The Works some months ago. I had promised myself I wouldn't buy any more but… I couldn't help myself, the colours were too pretty! And to be fair, it is the second time I used them on a project, so I don't feel thaaat guilty!
On the teal background card, I splattered some white gouache to give it a bit more interest – it is amazing how splatters and embellishments at the end of a card always fix my layout issues – do you find that too?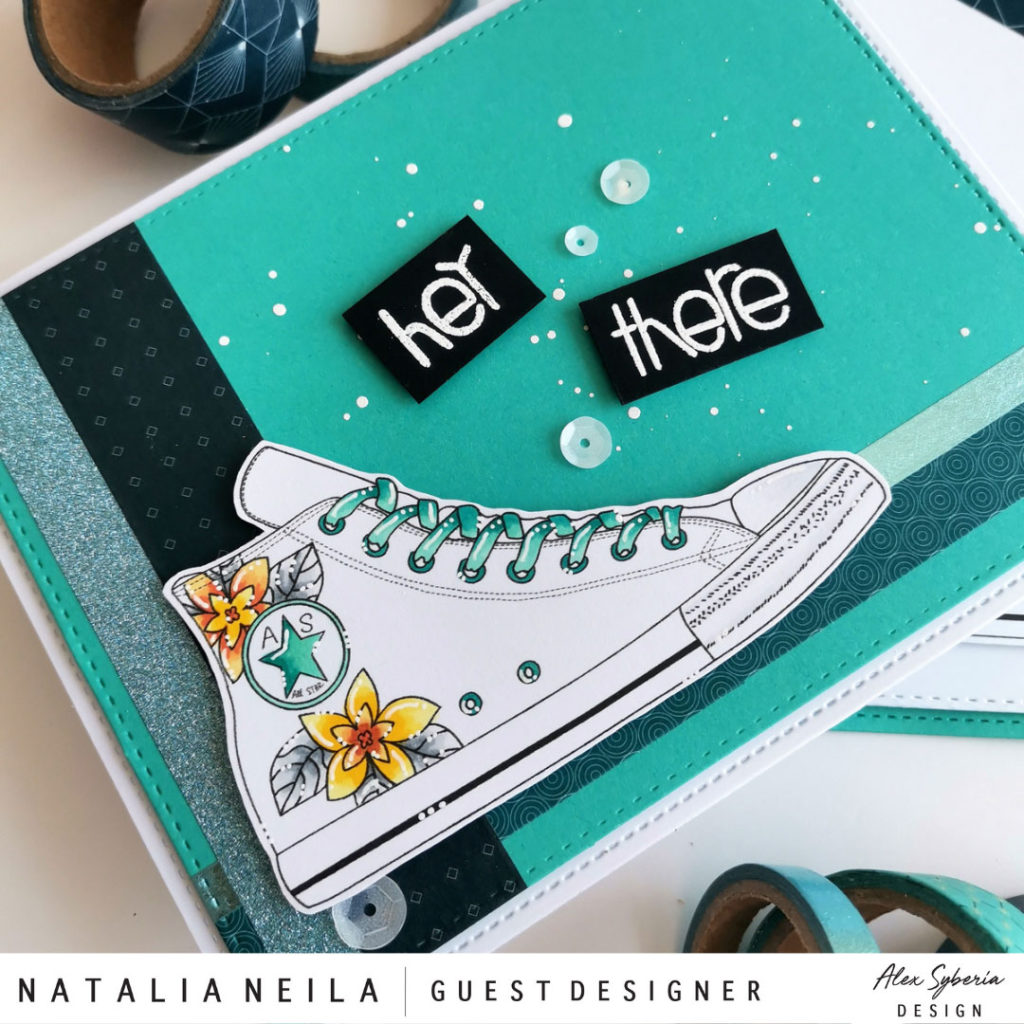 I used my dymo to create the sentiment on the first card and I used a super cool sentiments stamp set from Paper Smooches fro the second, which I heat embossed using white embossing powder. I mounted the panels on an A2 panel and used double sided foam to adhere the boot to the front panels giving it some dimension.
Head over to Instagram and check this post to see the hop that is happening right now for an opportunity to win a $20 voucher for Alex's etsy shop!
Sending you hugs,
Natalia