Hello everyone! Bonnie here with two cards featuring the gorgeous image, SKETCHED HIBISCUS. I love all the incredibly beautiful images in Alex Syberia Design's new release but this floral spoke to me. Painting it once was not enough! Working with digital images has its advantages… one of which is to resize for a different look. And that is exactly what I did!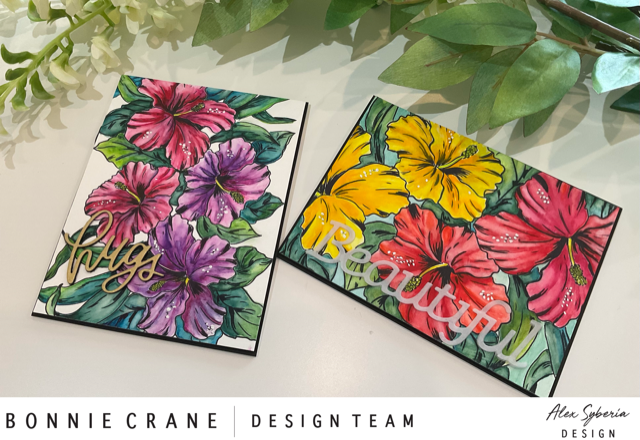 The images were printed on Canson XL watercolour paper; an affordable and decent quality paper. I worked with Mission Gold water colours and a Kazan #8 round brush. A 'wet on dry' technique was used … simply stated, wet paint on dry paper! For some tips on painting, please have a peek at the video. The following colours were used:
• Red Flowers – Vermillion, Permanent Red
• Yellow Flowers – Yellow Light, Yellow Deep
• Rose Flowers – Crimson Lake, Opera
• Purple Flowers – Red Violet, Bright Clear Violet
• Leaves – Cobalt Blue, Van Dyke, Viridian, Olive Green, Sap Green
• Stamen – Yellow Light, Yellow Green
The background for the 'close up' image was painted with an aqua wash. White gouache was applied for the dot detail using a #1 round brush.
Both panels were trimmed to 4 1/8″ by 5 3/8″. They were mounted on a panel of black card stock measuring 4 14″ by 5 1/2″ and adhered to top folding, A2 sized card bases.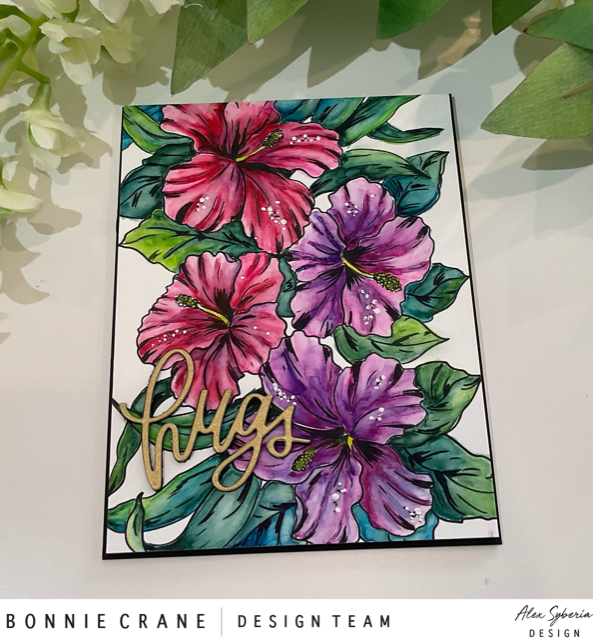 Simon Says Stamp's Big Scripty Hugs was die cut from both matte gold card stock and black foam and stacked.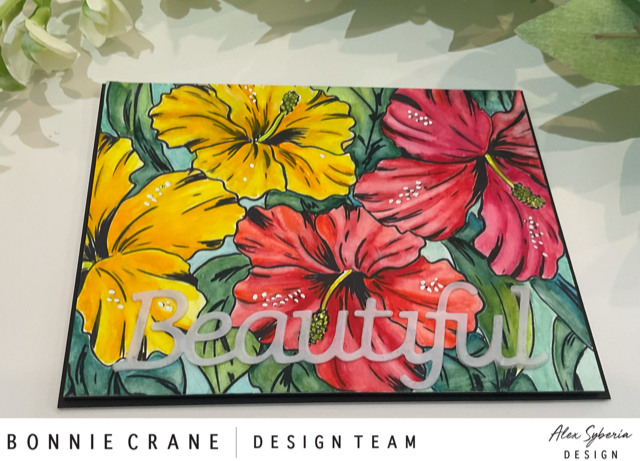 I liked Simon Says Stamp's Beautiful die cut sentiment for the landscape orientation of this card but did not want to detract from the image so it was die cut from vellum. One layer was not enough for the sentiment to stand out. Three die cuts were stacked to create a soft yet clear sentiment. The die cuts were fed through a small Xyron to essentially create stickers. The sentiment was easily stacked without any unslightly glue splotches showing through the vellum.
VIDEO TUTORIAL