Hello everyone! Bonnie here from BONNIECAROLLEE.com. Do you like to water colour? I find it very relaxing especially using a 'wet on wet' technique …. paint on wet paper. I love dropping in colour and seeing how the water moves it! Mesmerizing! Today's card features a gorgeous image from Alex Syberia Design's newest release, GARDENIA DUO. I took some liberties with the colours!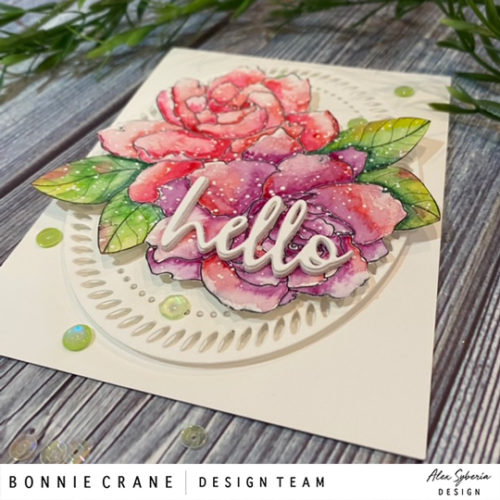 The image was printed on Canson XL water colour paper. I used Sennelier paints … beautiful watercolours! The flowers were painted in Opera Rose; one with the addition of Scarlet Lacquer and the other with Cobalt Violet Light. The petals were painted one at a time … clean water applied and paint dropped in at the base of the petal. I did help the paint move with small pouncing motions. The petals were left to dry before painting the one adjacent to it to prevent bleeding. The leaves were painted with a combination of Green Yellow, Forest Green, Lemon Yellow and Opera Rose.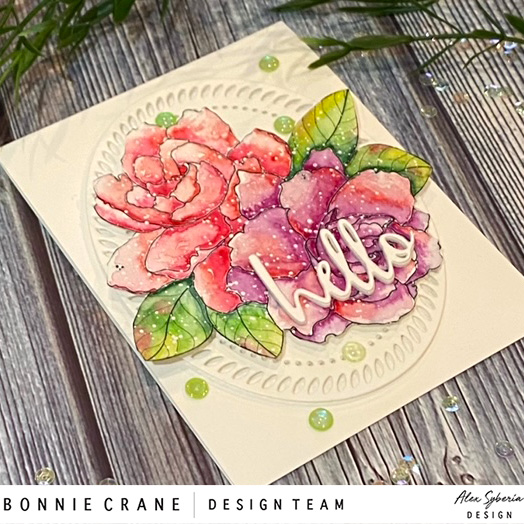 After the water colour was dry a spattered the image with watered down white gouache. It was mounted with foam squares on Pinkfresh Studio's Braided Oval. This frame was also given some dimension by adhering the solid area to sheet foam before mounting it on a top folding, A2 sized card base. The finishing touches included a stacked die cut sentiment by Simon Says Stamp, Script Hello, and a few fresh green sequins topped with Nuvo Crystal Drops Morning Dew.
Video Tutorial
Thanks so much for your visit!