Hello Crafty friends! Sylvie (@kaliscards) here with my very first project on the Alex Syberia Designs blog! I am so honored to be joining this very talented team. For my first project, I'd like to bring you some inspiration for this month challenge.
This month challenge goes with either embossing powders or beautiful fall colors. As you may guess, I picked the second option!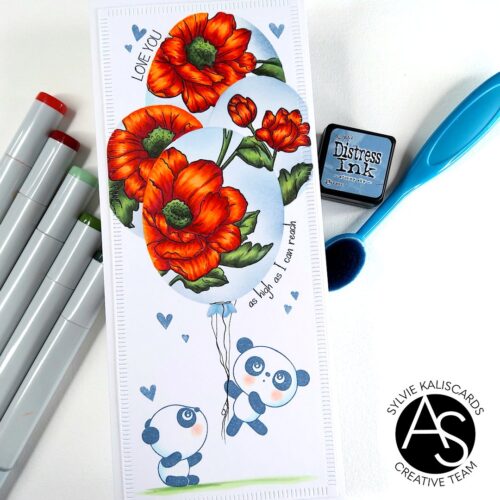 To create this card, I started by placing the Bokeh balloon stencil over my panel which I precut as a slimline panel, slightly greater than the final card. I then stamped part of the Spring garden floral through the stencil.
Keeping the stencil in place, I then blended Distress ink Stormy sky  around the flower.
The Bokeh balloon stencil comes with both the positive and negative parts of the stencil, so I used the balloon shape as a mask to cover the first balloon and stamp through the next balloon stencil.
I repeated the same steps for each balloon on the card.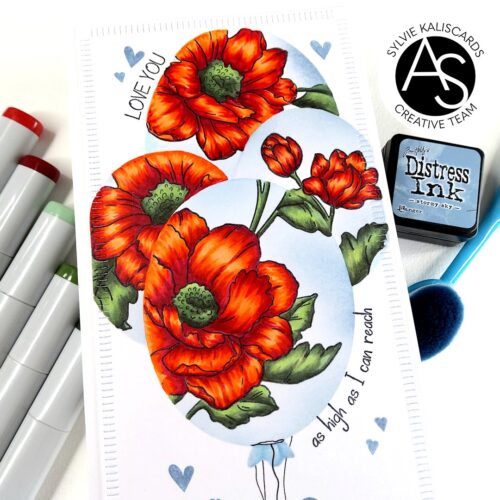 I then stamped the cute pandas from the Cheerful Panda Moments set, with Distress ink Stormy sky. I added some shadows with a light blue Copic marker, light pink on the cheeks and white dots in the eyes with a white gel pen.
I drew lines from the balloons to the panda's arm with a Copic liner.
I then colored the flowers, matching the challenge palette, with Copic markers BG99, BG96, G94, G21, YG11, R39, R46, YR07 and YR02. I also added a line of grass underneath the seated panda with light green markers.
I stamped the sentiments from the Giraffe-ic friends set, bending the stamp to follow the ballon shape. I also stamped the two hearts from the same set, a few times, with Distress ink Stormy sky.
I die cut the panel with the larger rectangle from the Slimline Nested Stitched die set and adhered it to my card base with liquid adhesive.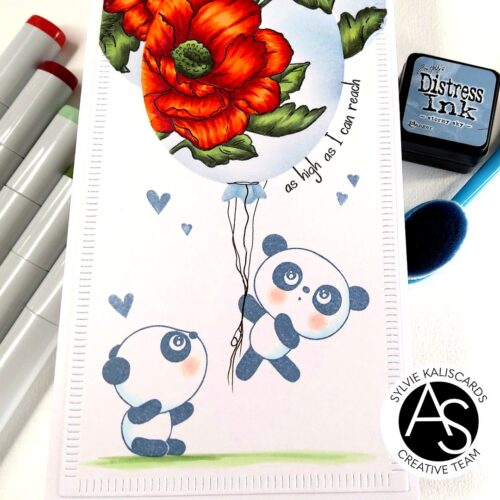 Hope you like it and you will give a try to the challenge!
Thank you for stopping by and have a wonderful crafty day!
Sylvie