ALEX SYBERIA DESIGNS KICKSTARTER CAMPAIGN
The moment has arrived!! Our Kickstarter Campaign is live!
We are SUPER excited to introduce you to Alex Syberia Designs' first physical release!
In case you are new to Alex Syberia Designs – Hello there! And for those of you who already know us – Hello to you too!
As many of you know, we have been releasing digital products (digital stamps and cut files) for the past 3 years. Today marks the next step for our brand, and we are launching our very first collection of physical products through our Kickstarter Campaign! With clear stamps, dies and stencils, there's something for everyone to love!
To have a look at all of the designs in detail (including videos!), the exclusive offers we have for you, and see how you can support us, make sure you check our Kickstarter Campaign Page.
Our Kickstarter Campaign, full of incredible discounts for you, will run from the 15th September to the 16th October 2022.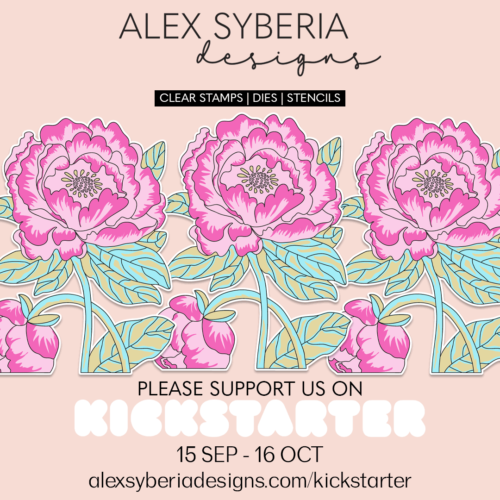 WHAT'S A KICKSTARTER CAMPAIGN
Kickstarter is a platform that helps bring creative projects to life by creators (that's us!) offering rewards which people 'back', helping contribute towards the funding goal. You can consider this a way of placing pre-orders (also known as backing rewards in Kickstarter terms).
You can be a part of our incredible adventure and support our small business! We are collecting pre-orders through the Kickstarter Campaign (from the 15th September to the 16th October 2022) before we commence manufacturing at the end of October.
We are offering exclusive discounts to our Kickstarter supporters with huge savings across all our products: clear stamps, dies and stencils. You can find out all the details on how to pre-order Alex Syberia Designs new products by visiting our  Kickstarter Campaign.
CELEBRATION HOPS AND GIVEAWAYS
This great milestone called for some big celebrations! Throughout the duration of the Kickstarter Campaign, we are hosting 4 hops:
15 September 2022 – Hop 1: Blog hop
23 September 2022 – Hop 2: Instagram hop
5 October 2022 – Hop 3: Blog hop
13 October 2022 – Hop 4: Instagram hop
GIVEAWAY PRIZES | OVER £1000/$1200 IN TOTAL
We've been touched by the incredible support of our crafting community, both with our designers who have been working very hard to create a TON of inspiration with the new release, as well as our hops sponsors who have contributed to the giveaway prizes as tokens of unity. We couldn't be more grateful!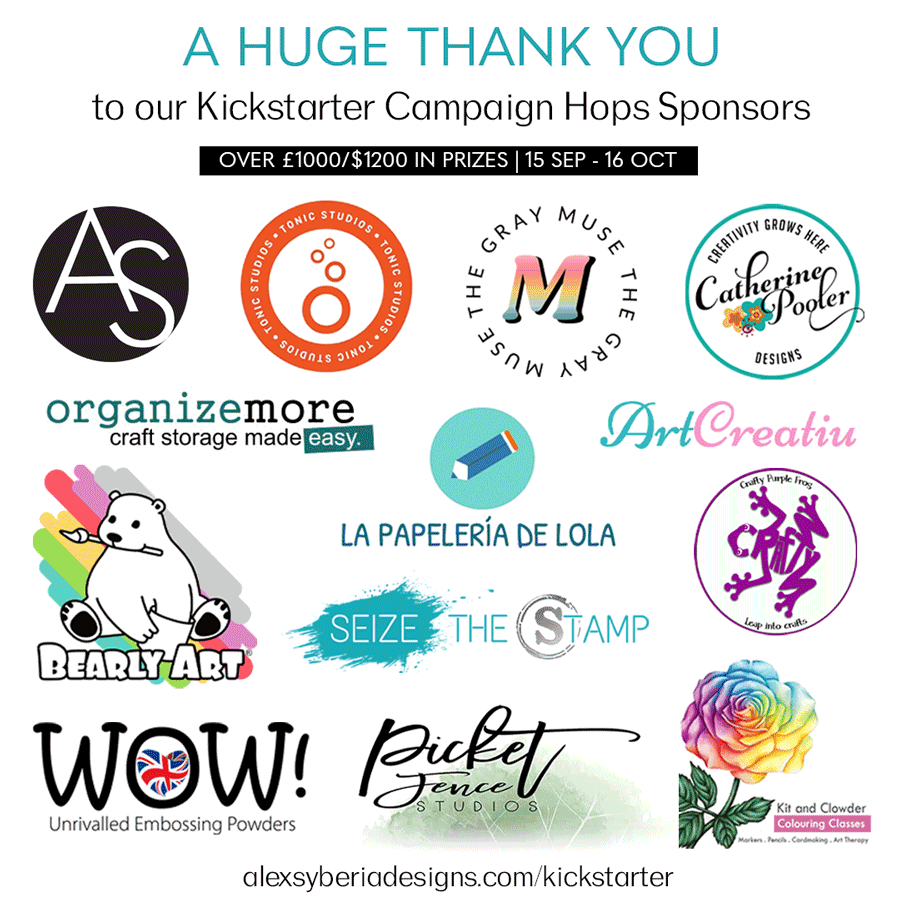 Alex Syberia Designs is giving away some fantastic prizes; our full September Release and two of our gorgeous Floral Bundle or Critter Bundle to choose from. There are also amazing companies and crafty friends who are celebrating with us. Here's the complete list of awesome prizes:
* Check our Kickstarter Campaign for more info
That's a total of 15 prizes for 15 lucky winners! To be in with a chance to win one of these amazing prizes all you have to do is play along with each of our four hops! We at Alex Syberia Designs will draw winners from those entrants that have played along our hops by 16th October 2022. 
Our first hop is a blog hop. To enter, you have to back one of the rewards available in our Kickstarter Campaign and leave a comment on this blog post as well as those of all of our amazing designers. You can see the full list, with links to each blog, below.
Make sure to follow us on social media and subscribe to our blog so you don't miss out on the chance to win one of our incredible prizes!
Winners will be announced on the Alex Syberia Designs blog on the 23rd October 2022.
BLOG HOP 1 | DESIGNERS LIST
Below is the complete list of the super talented designers who are sharing their creations with us today. Your first stop on the hop is Alberto Gava.
THANK YOU
We want to say a huge THANK YOU to all of you for your continued support! We couldn't have done it without you!
Happy backing & hopping!
Crafty hugs,
Alex & Natalia