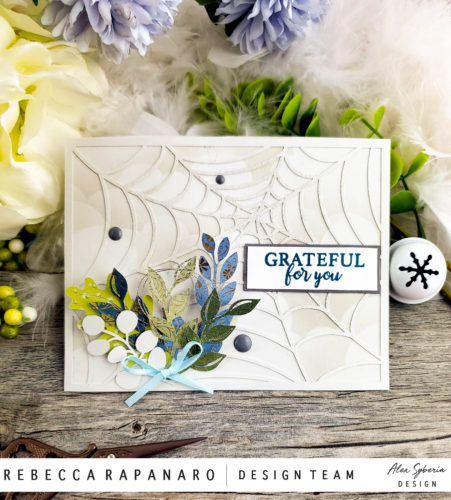 Hello Crafty friends Rebecca the Wizardess of Cards Here! I am always happy when I am creating anything with Alex Siberia's designs. Her new Cut Files are stunning and my Cricut always makes quick work of them.
This card was very easy to create! It is an A2 sized card. I used the Alex Syberia Design Cutfiles Fall Leaves and Halloween Spider Webs. I believe spider webs can be used any time of year, they can add an element of texture to your card without being scary. I used a very soft card stock colour and used a sparkly embossing powder to give a beautiful effect to the web! Both Cut Files were easily cut on my Cricut, the leaves, I simply used Pattern paper.
I added some clouds using Distress ink to my card panel then glued the web on top. I stamped my sentiment using a Peacock blue ink, both I had in my stash. I added some enamel dots, ribbon and a rose gold thread for interest.
Cutfiles are easy to use and you can use whatever you have in your stash to create different looks. Thank you for stopping by, I hope all my State Side friends had a beautiful Thanks Giving!
Rebecca
@wizardessofcards