Hello Rebecca here and I am absolutely delighted to be up on the Alex Syberia Design blog . Today I am sharing a card that I watercolored using Alex Syberia's Best Summer Flowers digital stamp from her July collection. Dark blues and mossy greens with little pops of colour here and there set the stage for a unique and beautiful pallet.
This is an A2 card and my purple cardstock panel  sequins and the sentiment, are from The Demask Daydream Card Kit. The butterflies are from the Slimline Scalloped Edge Pocket Die I use them frequently. Ok I admit my watercoloring is a little on the wild side, but why not? I always have fun adding layers and flecks of colour here  and there. To begin I printed my floral image on hot pressed watercolored paper and I first wet my flowers and used Prized Ribbon Distress ink then Winsor and Newton Watercolors to paint and shadow my petals. Winsor And Newton has the most beautiful blues and Payne's grey. Once all was dry I I did my usual shadowing and highlighting with pencil crayons and because I can't help myself I splattered with white gauche, I use Holbein paint.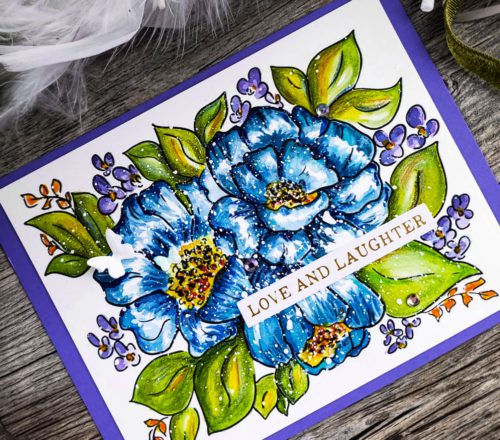 Thank you for stopping by I truly hope you have found some inspiration to watercolor some of your own summer flowers and get a chance to stop by Alex's Etsy Store.
*I do use Affiliated links where possible at no cost to you
Rebecca
@wizardessofcards