Hello everyone! Bonnie here from bonniecarollee.com  It is gardening time and, in my neck of the woods, the tulips are just coming into bloom. The promising display of colour in the garden has inspired this easy water colour featuring a gorgeous image, TULIP CLOSE UP. The open design of this illustration makes it very versatile … suitable for any medium.
I am working with Mijello Mission Gold water colours.  The tulips are very saturated meaning I applied just a bit of water directly to the pans of paint. One flower is painted with Rose Madder and the other with Red Violet. The stem and sepals were painted with a combination of Sap Green and Olive Green. The flowers were painted petal by petal; alternating petals so the paint would not meet a wet edge and run. A small amount of water was applied to the petals, stems and sepals before the paint to get a smooth coat of colour.
The background is a colour wash created with water, Viridian and Ultramarine Blue. I worked section by section applying the wash.  I made sure to keep the edges wet while painting to avoid any hard lines.  When dry, a fan brush was used to apply slightly watered down white gouache in a crosshatch. Pattern. When dry, a damp paint brush was used to remove most of the crosshatching from the flowers. The gouache was used to apply spatter to the panel.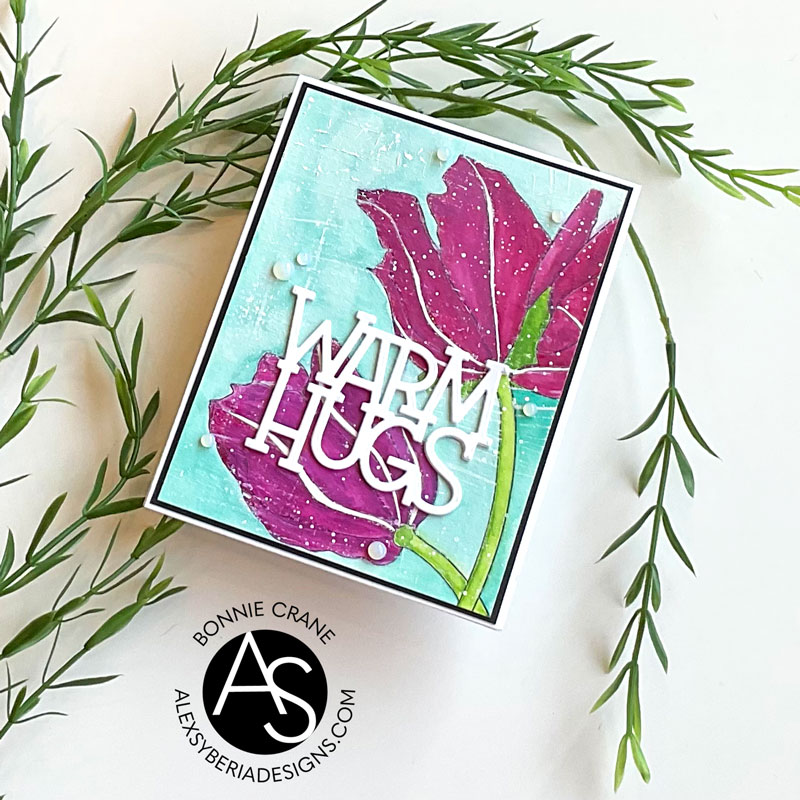 The panel was trimmed to 4" by 5 1/4" and mounted on an A2 sized black matted card base. Simon Says Stamp's Warm Hugs was die cut from white card stock three times and stacked.  A few clear iridescent confetti finished off with Nuvo Crystal Drops Morning Dew complete the card.
Thank you so much for your visit!
Bonnie