Hello Friends, and welcome!
We are BEYOND excited to be sharing this release with you!
SUNKISSED MEMORIES RELEASE
We are all ready for some summer vibes – let's introduce  "Sunkissed Memories"! This fun collection features a great mix of unique penguin-mermaids, stunning floral images including the most beautiful tulips, chrysanthemums, and fabulous die cut flowers, along with a charming bird and magical backgrounds.
We've designed a wonderful selection of products that work beautifully together, so you can mix and match to create amazing projects. Whether you're an experienced card maker or a devoted scrapbooker, this bundle is a must-have addition to your crafting collection!
Featuring a variety of stamps, dies, stencils, and hot foil plates, you can let your imagination run wild and create mesmerizing crafting projects.
CARD INSPIRATION
Don't miss the chance to experience the magic of our collection and bring your imagination to life. Get ready to be inspired!
VIDEO
Discover the creative possibilities of our products in this video:
The Full Release:
The Tulips Treasure Set features two large images of tulips, designed in the distinctive style that Alex Syberia Designs is known for. If you're not confident in your colouuring skills or you are in a rush, don't worry! The Tulips Treasure Stamp Set and Hot Foil Plate Set coordinates perfectly with the Tulips Treasure Stencil Set. This stencil set allows you to quickly and easily add color to the tulips, achieving beautiful results without the need for advanced coloring techniques. Finish it all with perfection – use the Tulips Treasure Die Set to cut out all the images and sentiments.
This layering stamps set features a large chrysanthemum flower and a leaf, allowing you to easily build layers and achieve a lifelike effect. The intricate details of the chrysanthemum stamp will leave a lasting impression on your creations, providing that much-desired "wow" factor.
Like finishing your craft projects with a beautiful sentiment? – the 'For You' hot foil and coordinating die will do the trick! There are two dies in this set – a word die and its shadow die. You can use the shadow die in this set as the coordinating die for the matching For You Hot Foil Plate.
This die set features an adorable bird design, along with 3 gorgeous flowers and 2 leaves, all in an extravaganza style that will bring a touch of charm to your projects. On top of that, we've added the die cut sentiment 'Smile', together with its shadow die – don't worry, we've got you covered!
A basic for any crafter's stash, this set includes the words 'with', 'love', 'sending', 'hugs'. Do you remember the Love & Hugs Die Set? It's been a very popular set, so we are bringing you the perfect match for it – the Love & Hugs Hot Foil Plates! For maximum versitality, use the use the shadow die in as the coordinating die for the hot foils.
This A2 size cover plate will pierce your background with the most delicate floral design. Perfect for adding interest to your projects with minimal effort!
We told you you'd love to combine the Pengu-tastic Holiday Stamp and Coordinating Dies with this set, didn't we? Can you picture the possibilties? They are endless! Featuring the cutest mermaid-penguins and lots of sea creatures, this set will allow you to craft the most fun projects.
You were a big fan of our Smile and Wave Set, so we brought you the summer penguins! Join them as they embark on a beach vacation, surfing the waves and enjoying the sea breeze! They combine perfectly with the Underwater Wonders Stamp and Coordinating Dies Set. Are you ready for the summer adventure?
This is a very special set, filled with positivity. Embrace the vibrant energy of summer with the Sunkissed Memories Stamp Set and coordinating dies, featuring a delightful collection of happy-inspired sentiments.
Whether you're a fan of pastes, dry embossing, ink blending, or other techniques, this stencil is the perfect companion for creating stunning effects. Transport yourself to the calming waves of a summer sea as you add a touch of the Seaside Swirls Stencil to your cards.
The Mermaid's Melody Cover Die is a crafting essential – use it for summer projects with its wavy design; for your winter designs with the effect of hills and snow; or as touch of detail for your floral or critters background projects – an all year round design which you will find endless possibilities for!
Get ready to fall in love with your new favorite tag dies: the Signature Tags Die Set. This essential set features 4 tag dies, along with 3 coordinating small dies, to inspire your creativity. And you want to know something really cool? It coordinates perfectly with the Nested Scalloped Frames Die Set – get ready to make some fun shaker tags or just add that extra touch to your tags!
Let your imagination fly as you combine the intricate leaf dies to form lush botanical arrangements. Add a warm and welcoming touch to your designs with the circular "hello" die, perfect for creating stunning focal points. And don't forget the large, striking "summer" word die, designed to make a bold statement and evoke the joy and vibrancy of the season.
It would not be summer without some sunshine! This captivating hot foil plate is specifically designed to coordinate seamlessly with the Sunrays Stencil Set, allowing you to effortlessly create your projects with a beautifully radiant shine.
The Tiny Dots Cover Die features a classic tiny dot pattern that covers a full A2-sized card, allowing you to effortlessly create stunning backgrounds. Want to take your projects to the next level? Coordinate this cover die with the Tiny Dots Hot Foil Plate and Tiny Dots Stencil.
GIVEAWAY PRIZES
______________________________________________________________________________________________________________________
GIVEAWAY WINNERS:
BLOG HOP:
1. The entire release valued at

£400

($495) in total – Samantha Pfrimmer


2.

£

15 gift cards: Tinne Petters and Lounon GC2

INSTAGRAM HOP:
The entire release valued at

£400

($495) in total –@mfergu01 Michelle Ferguson
YOU TUBE HOP

£25 giftcards

:
Kay Furnish, VICKIEHOPKINS13, Gail Spresser
Please email ​info@alexsyberiadesigns.com to claim your prize. Please allow up to 3-4 business days for a reply due to the volume of emails received. Prizes not claimed within 2 weeks are forfeited.
______________________________________________________________________________________________________________________________
Make sure to follow the blog hop to see the most stunning and inspiring projects from our wonderful designers, and the chance to win prizes!
1. The entire release valued at

£400

($495) in total 
We are giving away the full release bundle, valued at £400 ($495) in total, to one very lucky winner! Please leave a comment below telling us what is your favourite design from this release.
2. A

£

15 gift card to 2 lucky winners
Also, we are giving away two £15 ($18) gift cards to two lucky winners!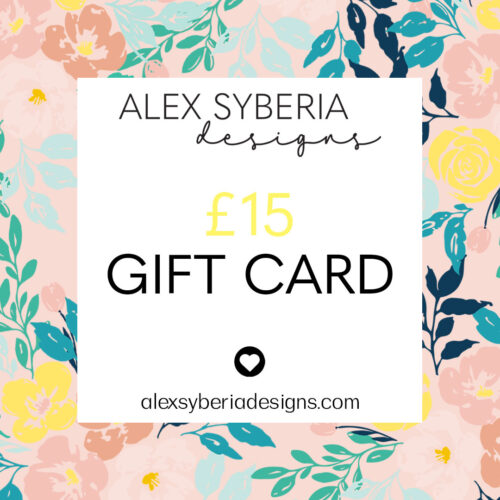 We will pick all the winners from the comments left on each designer's blog post in this hop before midnight BST on June 18th 2023.
The winners will be announced on this blog post on June 19th 2023 – make sure to come back and check if you are our winner! Prizes not claimed within 2 weeks are forfeited.

BLOG HOP LIST
Here's the list of incredibly talented designers joining today's hop. Make sure to drop by each stop and leave them lots of crafty love for more chances to win:
Happy hopping along your way!
LET'S BE FRIENDS
Make sure you keep an eye out for our newsletters (if you haven't already!) and social media posts for a chance to win new products! alexsyberiadesigns.com
Follow us:
INSTAGRAM | FACEBOOK | YOUTUBE