Hi crafty friends! Lien here back with a great way to not only stretch your sentiment supplies, but also give you an idea to use up your colorful inky backgrounds! You can watch the video here.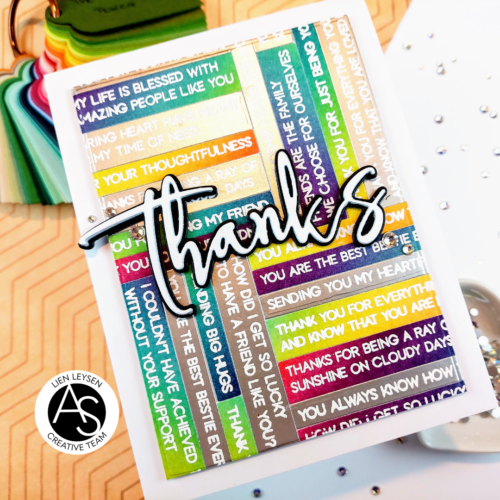 For this card I'm using the Expressing Gratitude stamp and die set, it's one large stamp that creates a ton of sentiment strips all at once, the coordinating die is a one piece die that cuts all the strips in one pass through your die cutting machine. It's great to create a lot of sentiments in advance, or for something like this where we'll build a background out of sentiment strips.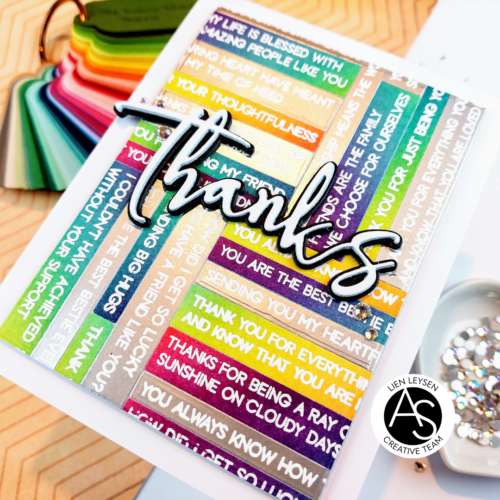 I'm stamping this Expressing Gratitude stamp onto mat silver cardstock in Versamark ink and I'm doing the same onto a rainbow blended background. You can use any leftover background you have that has a lot of color variation in it. I cut out the strips with the Expressing Gratitude die and then started building my background. I'm working on a separate piece of cardstock which I divided up into 4 quadrants with some penciled guidelines. This will help me glue the first sentiment strips on straight and the rest I can just butt up against the previous ones.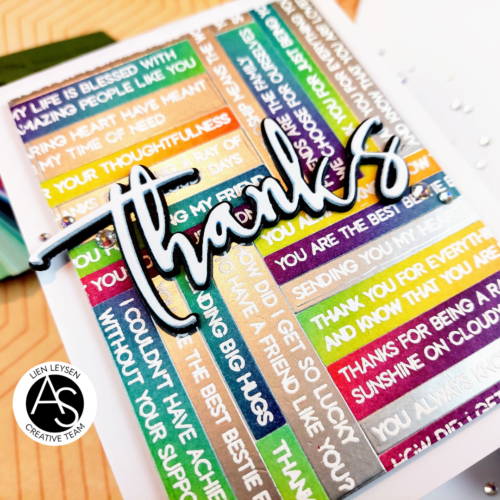 I fill my background up alternating with the rainbow and the silver strips. Once it's done, I trimmed it down a bit and added the Large Thanks die in the center. I cut the shadow a few times from black cardstock and the script a few times from white cardstock and stacked it up for dimension.
I propped the strip background up on a piece of cardboard and finished the card off with a few holographic embellishments. For more tips and tricks, watch the video below!