Hey Crafty People!
It's Tasha here, from HandmadeByTasha and I'm sharing an ink blended, foiled, rainbow dose of pure happy into your day!
I printed the Flower Garden card panel from Alex's February release onto some Neenah 80lb, using my HP Laserjet Printer. (This type of printer is necessary for the foiling that I am planning to do on the design.)
This has to be one of my favourite designs from the February release, I've used it for several cards already; I'll add a link at the end of this post so that you can hop over to my blog for more inspiration using Alex's beautiful designs.
Ink Choices…
I grabbed some Catherine Pooler inks in rainbow shades; I love her inks for everything! They are superb for ink blending.
I used Rockin' Red, Tiki Torch, Limoncello, Grass Skirt, Suede Shoes and Grape Crush.
Using ink blending brushes, I started in the top left hand corner with red, and blended my way through the rainbow, diagonally across the panel.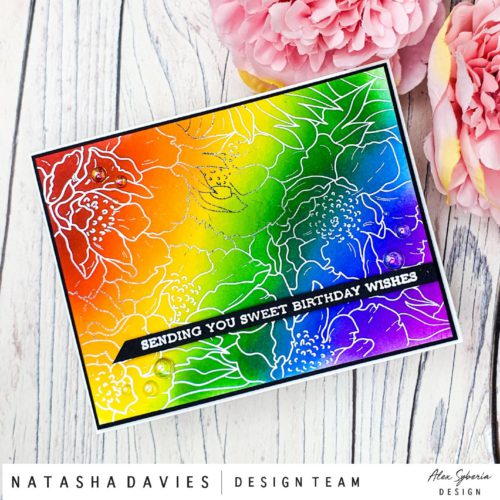 The best way to blend colours like this is to allow a crossover area, where the two colours meet; then if, for example I was blending red to orange, I would first add red, then orange, then go back over with red again. I just keep doing this until I am happy with the blend, and continue this all the way through my rainbow.
I am absolutely LOVING rainbow ink blending just recently; I think I am definitely channelling my inner Erica!! 🌈😁
Once I finished the ink blending, I set the panel aside to dry before I did anything else to it. After about 20 minutes I helped it a little, by heat setting it with the lowest setting on my WOW Dual Speed Heat Tool.

Foiling…
Once I was sure it was all dry, I added some Silver Fab Foil using my laminator.
The toner that a laserjet uses to print, is heated up again when you run the image through a laminator, this then causes the foil to adhere to the toner lines.
This is why you need to use a laserjet, because the foil won't adhere to the ink used in an inkjet printer.
(*If you're unsure on how this works I have lots of blog posts and videos on this subject that you can find over on my blog.)
I love th
e

way th
at

the foi
l

pops
o

ff the r
ai

nbow!!

I trimmed the panel a little to mat it on black cardstock, this helps it pop even more!!
I embossed the sentiment using Superfine Opaque Bright White EP, also from WOW onto some more black cardstock.
I trimmed it down into a sentiment strip, cut a diagonal end and added it onto my card using foam adhesive.
I finished the design off with some Bubble Blow Out embellishments from Trinity Stamps, and popped the panel up on foam tape to an a2 card base.
I'm super happy with how this card turned out! It has so many of my absolute FAVOURITE designs elements & techniques; ink blending, rainbows, foiling, embossing, fun embellishments and best of all Alex's gorgeous floral illustrations!
I will be back later in the month with some more inspiration, but until then…
Stay Crafty!!
Byeeee!!!
*Please be aware, products links used are affiliate links where available. This means that I would get a small commission whenever anyone purchases using them, at no additional cost to yourself. Thank you so much to anyone who chooses to shop using my links.
Affiliate links are used