Hi everyone,
This is Colleen.
Happy International Women's Day! Today crafters have come together around the world to celebrate YOU and all the amazing women in this wonderful community around the world, with an inspirational blog and Insta Hop.
Alex Syberia Design is proud to be a sponsor of this inspiring event, along with these amazing companies: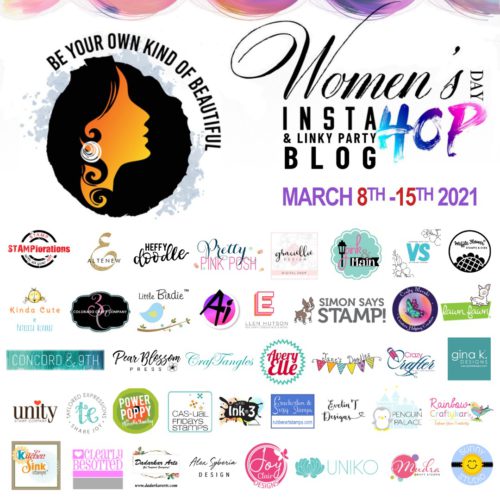 All the details about the Blog Hop & Insta Hop can be found HERE at the beginning of the hop!
Projects
Today I want to share 2 cards with Custom Playful Sentiments! I'm using the Cute Donuts digital stamp that was released in February. One of the donuts looks like a kitty, which inspired my idea!
Isn't this stamp adorable? Alex has some real playful digital stamps to choose from! I looked up cat memes online and came up with two custom playful sentiments that are PURRfect for my cat cards!
Card#1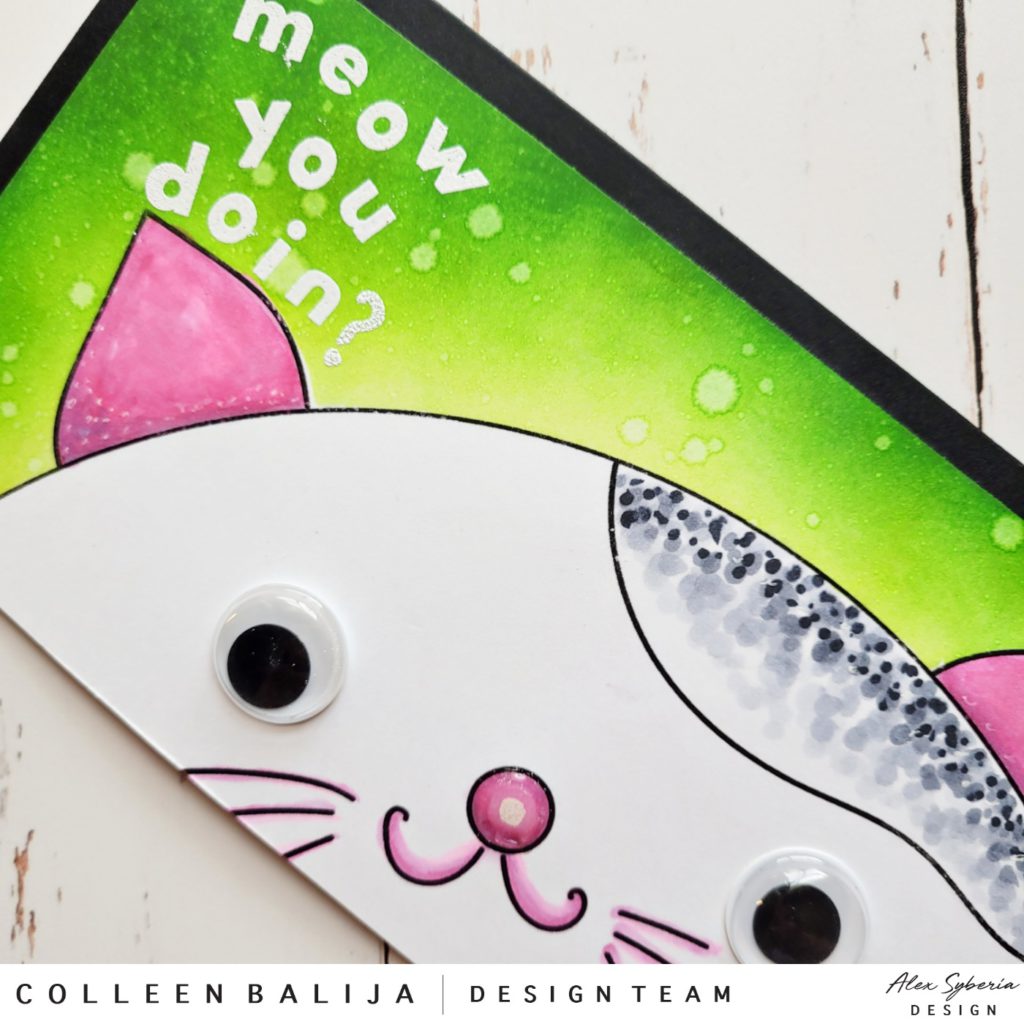 For my first card, I printed my cat onto Neenah Solar White 80 lb cardstock. I did this twice so that I could use one as a mask to do some ink blending behind the cat that I shall now name Beatrice! I used Catherine Pooler inks in Garden Party, Lime Rickey, and Grass Skirt and then sprayed them with water to get a cool distressed look. Can you see it below?
Aren't those colors springy and cheerful! Next I colored Beatrice and added googlie eyes to her. I got this idea from my dear friend Erica C. Thanks for the idea, Erica!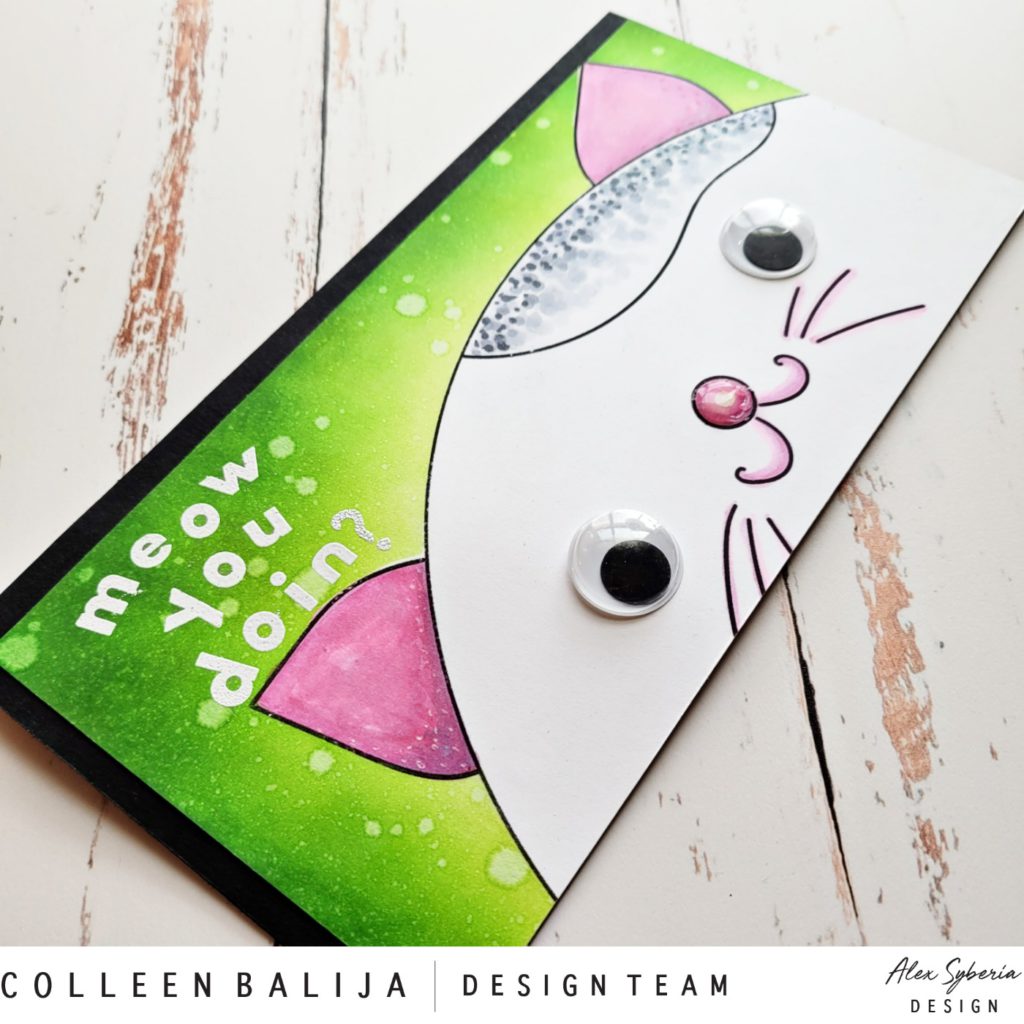 The last part was to add my custom playful sentiment, which says "Meow You Doin?" That seemed to fit perfectly with Beatrice' playful personality! I arranged the letters in a playful way too, using Stamp Market's Chunky Alphabet stamp. I adhered Beatrice to a black cardbase and she was ready for some mischief!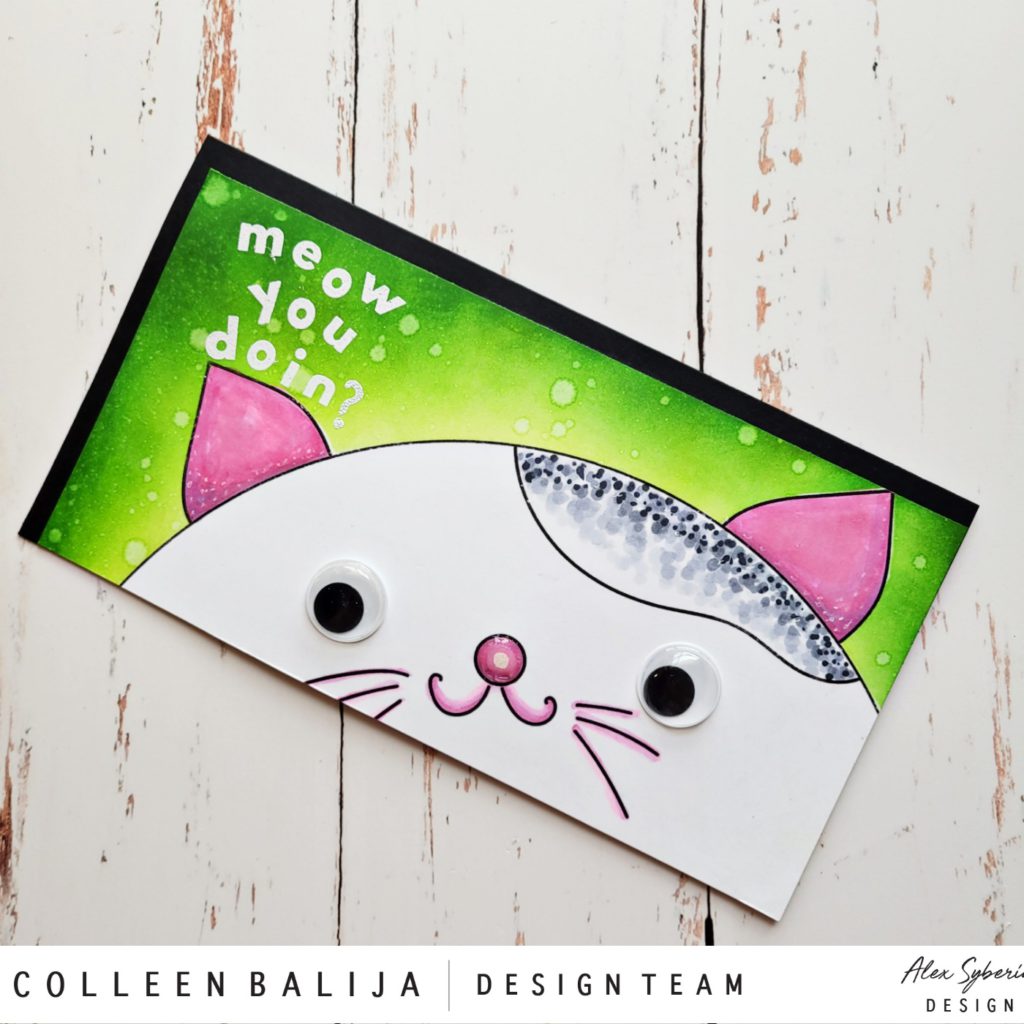 Card#2
My next card is mostly filled with playful sentiments and one of the Cute Donuts from Alex's release! This one is Beatrice's cousin, and his name is Frank. Frank was not happy with having to blend in rather than stand out like his cousin. But hey, I needed him to cooperate! Ok, I digress, back to the card now.
Frank is located within the word "Don't"! I saw a t-shirt online that looked similar to this and knew it would make the perfect playful card!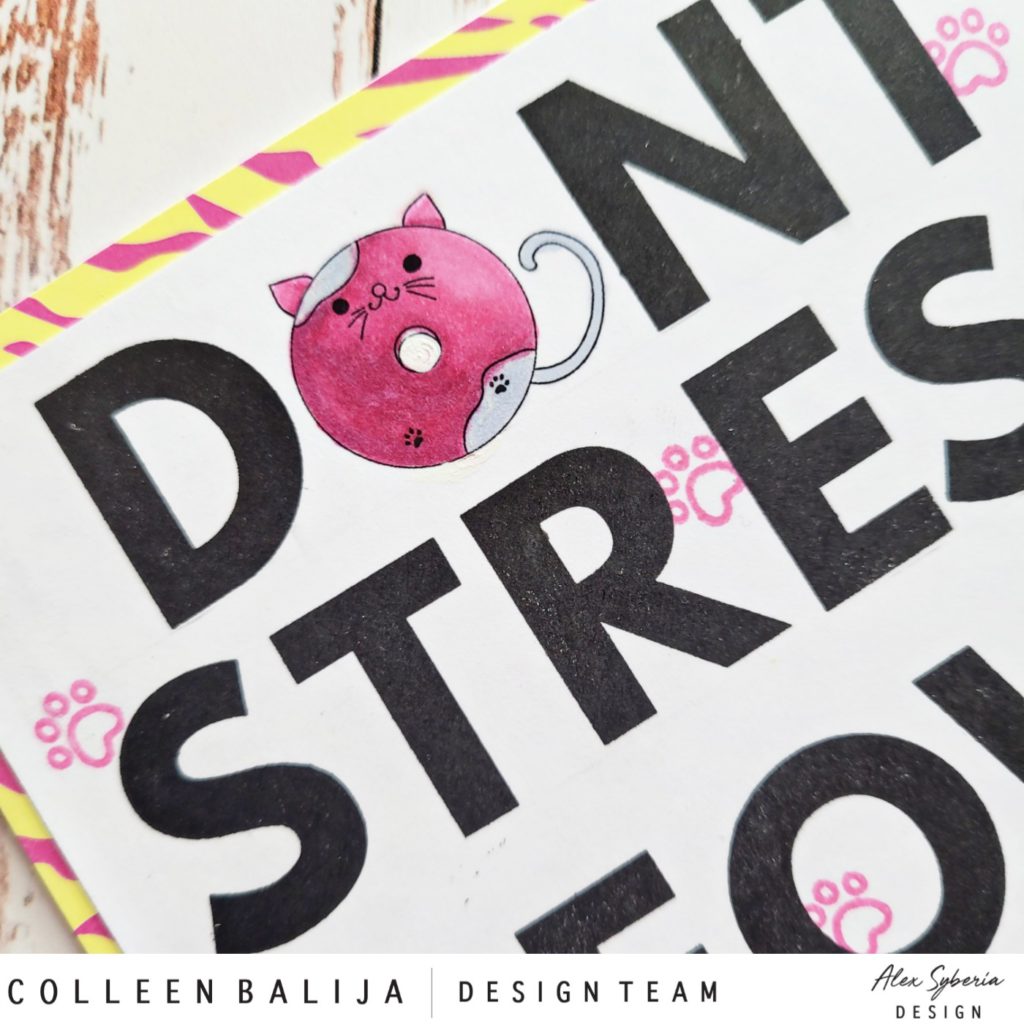 My first step was to upload this design into a Word document and reduce the size to fit with the Chunky Alphabet stamps. Then I printed the design onto Neenah Solar White 80 lb card stock. I used a ruler to create lines so that the letters were in alignment. When I was finished stamping with black ink, I erased the lines.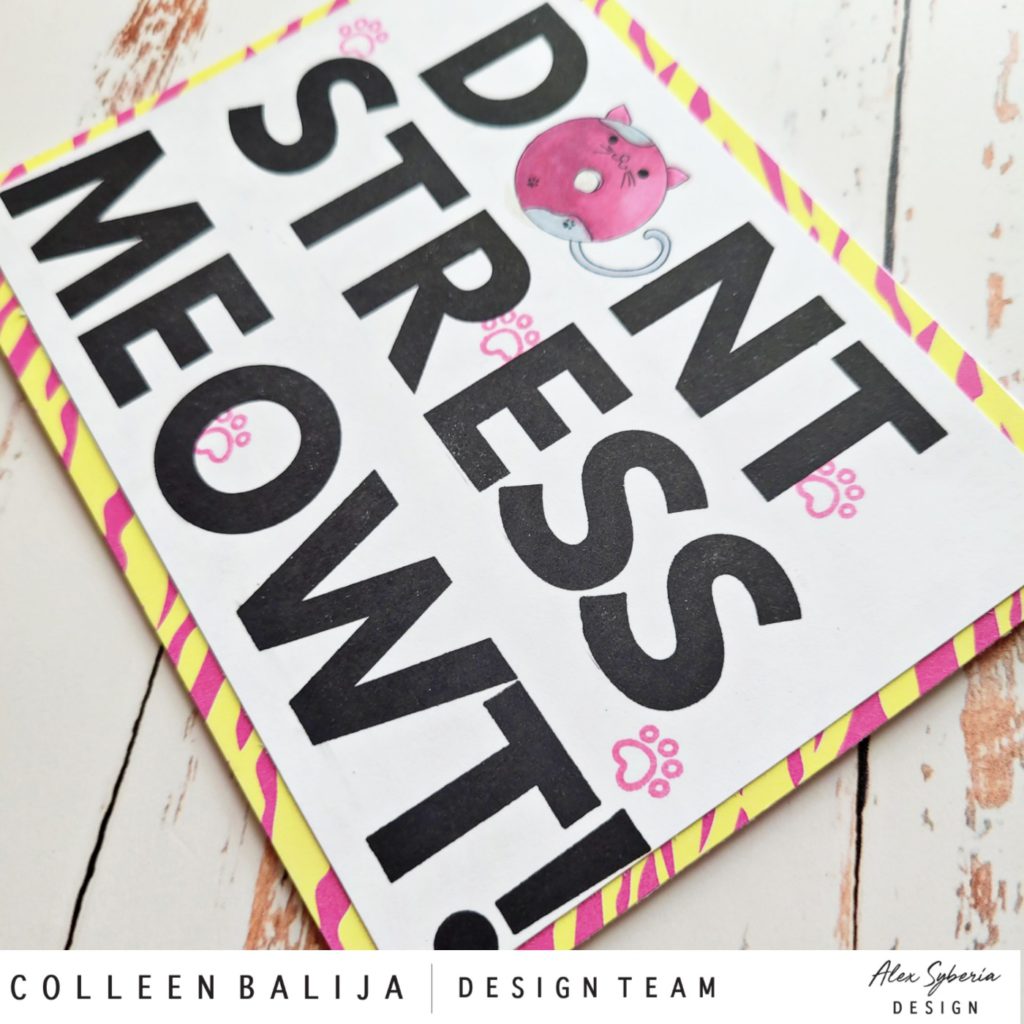 The last step was to color Frank so he popped up more than the other letters, add a few paws in the same color, and place the card panel over patterned paper that reminded me of a stressed out cat! I've had cats, I know what a stressed cat looks like! It's not pretty! But this card is pretty, right?
I really enjoyed playing with custom sentiments and Alex's playful stamps! And thank you for staying with me as I got silly!
To shop for these designs, click here. To find more inspiration by her amazingly talented design team, click here.
For my Instagram page, click here  For my Instagram page, click here.