Hello, crafty friends!
I am SO excited to be part of the new Alex Syberia Design's release!! It is a Halloween focused one, but she has added some stunning flower panels, of course!!
We are celebrating this new release with an Instagram hop, so make sure you hop along for the opportunity to win a giveaway of $15 to spend at Alex's Etsy store, including the items from the new release!
I love that Alex is now doing svg files too, and since I got the Brother Scan n Cut from my other half, I can now actually use them. And let me tell you, I am absolutely loving working with them!!
Right, let's talk about this card now!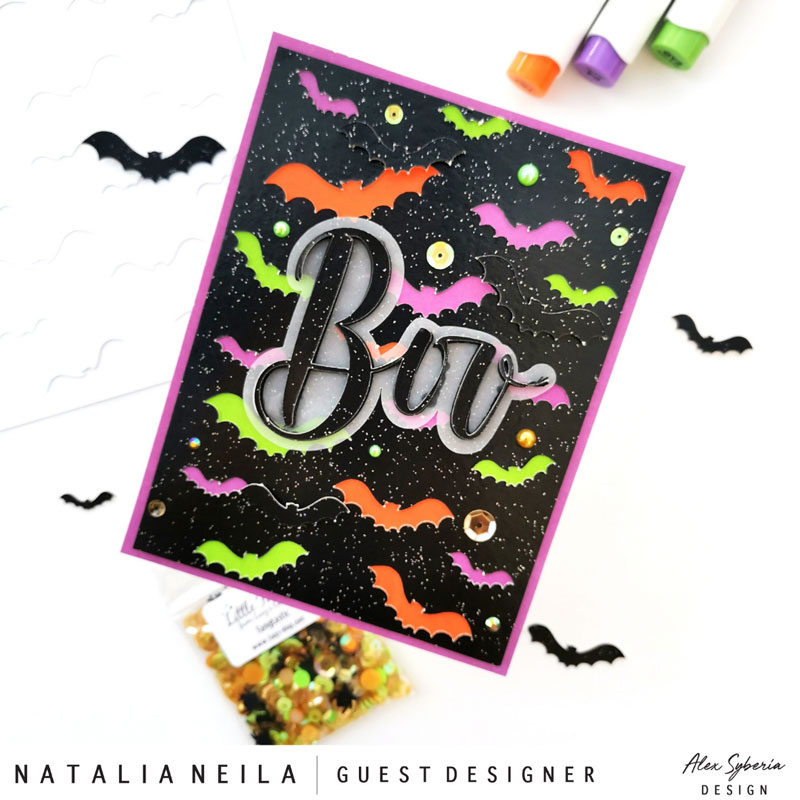 This card is actually quick and simple to make, the joy of working with svg files and not doing any colouring I guess! I combined two of the new svg cut files from this release to make this fun Halloween card. I used the 'Boo' sentiment from the Halloween Spider Web Bundle and the Halloween Bats Cover Plate for the background.
I cut the A2 panel from sparkly black cardstock and then placed orange, green and violet cardstock rectangles behind the bat openings to add some fun halloween-y colours to my card.
I also 'printed' the word Boo from black cardstock 3 times and a 4th from sparkly black cardstock for the top layer of my sentiment. I love that Alex has added a shadow for the sentiment as I think this makes it so much versatile! I 'printed' the shadow from vellum to help break up the colours from the background and the sentiment itself.
It would not be me if I didn't finish a card with some gems and sequins from Little Things from Lucy's Cards, would it? So this time I used a fun Halloween themed mix called Fangtastic. She doesn't have it in stock anymore but there's loads more to choose from!
I hope you like both this awesome new release, and my card!
See you over at the hop, thanks for reading me!
Sending hugs,
Natalia