Hey crafty people!
It's Tasha and I'm back with some more floral inspiration for you, using one of Alex's new release images!
This is Hello Summer and I thought Sunflower, as soon as I saw it!
I printed it onto Neenah 80lb, and grabbed a few Copics to colour it in. I started with just yellows, with a touch of Sunshine Yellow for the shadows but I very quickly realised that was nowhere near dark enough.
You really do need quite a bit of contrast, and yellow is quite a tough colour to make it dark but still pleasant.
So I grabbed out a burnt umber sort of colour, that appears MUCH too dark on the face of it, but I used an orange to help bridge the gap between the deepest shadows and the vibrant yellow petals.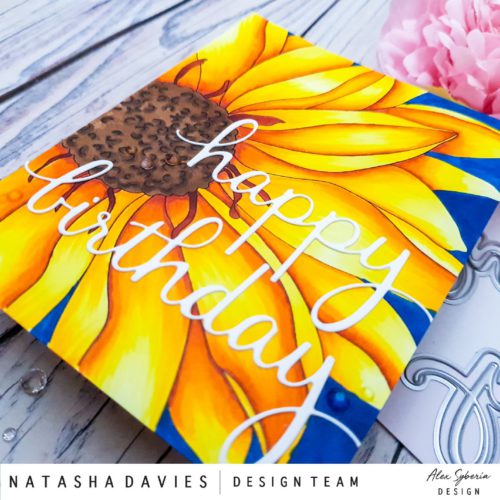 Copic Colours Used:
Petals: Y000, Y00, Y11, Y08, Y17, YR16, E08
Baby Petals: E08, E09, E18
Centres: E57, E59, E79
Background: B37
The trick is to use a colour dark enough that it's a little scary, but to only use a teeeeensy bit of it.
Gently, and slowly does it…as cliché as it may be, it's true that you can always add more but you can't take it away!!!
I like to just work on one petal at a time and it becomes really sort of relaxing.
I can zone out of whatever is happening outside my craft room, and concentrate on the way the colours blend together, well that and my music!!! (*Taylor Swift in case you were wondering! If in doubt, always assume it's Taylor Swift!)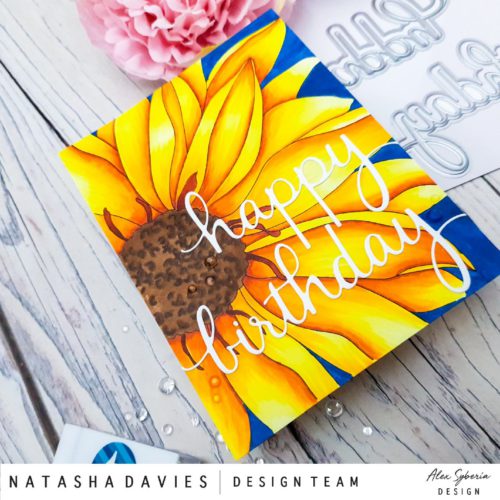 Once my petals were finished I worked on the centre of the flower; this was really easy to do, I just coloured the whole thing in the lightest brown I was using, then added bits of really dark, then dark, then medium brown to give me the look of it being loads of little bumps.
I decided that I wanted some colour to my background, so I added some vibrant blue to up that Summer feel even more!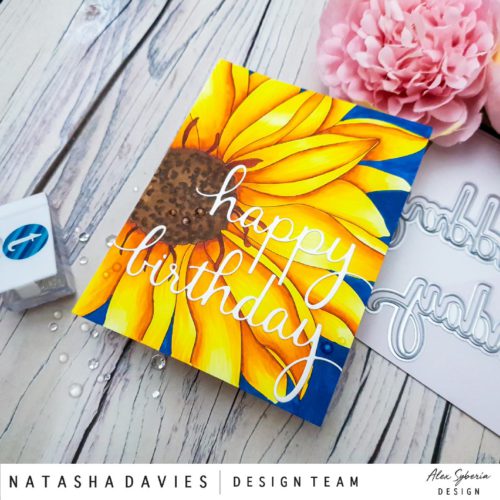 I used a sentiment die from Pinkfresh Studios to add my swirly Happy Birthday, and finished off the whole design with some clear sparkly gems from Trinity Stamps!
That's it!
I hope you like my card design, and as always I'd like to thank you for spending this time with me.
Have a lovely, happy, safe, wonderful week!
Stay Crafty!
Byeee!
Affiliate links are used